From placement to practice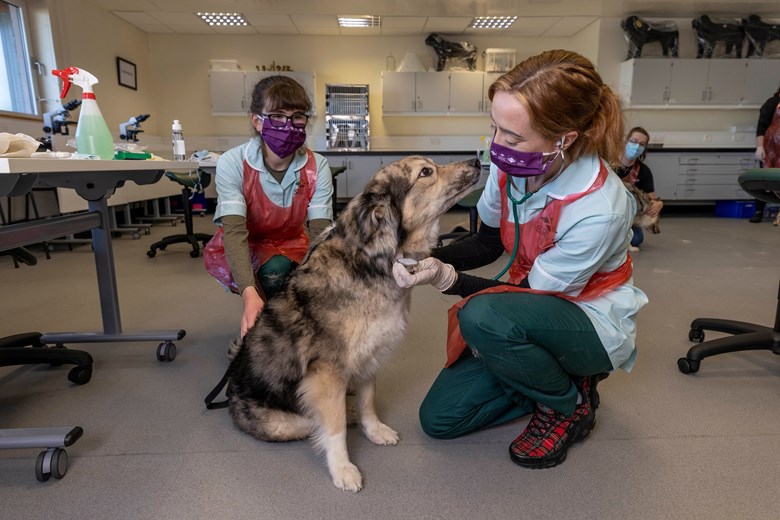 Student Nikki McKinnell (right) has changed career from vehicle body sprayer to Veterinary Care Assistant.
Veterinary Care Assistant students from SRUC are set to start on the next stage of their careers despite the challenges brought about by the coronavirus pandemic.
Nikki McKinnell, Laura Rotheray and Ceara Anderson have all been offered jobs at local veterinary practices after studying the one-year Level 2 Diploma at SRUC's Craibstone campus in Aberdeen.
After working as a vehicle body sprayer for many years and raising her two sons, Nikki, 35, from Aberdeen, decided to change her career path by returning to study.
Having spent her whole life rescuing, rehabilitating and rehousing dogs, a course in Animal Care at SRUC's Craibstone campus in Aberdeen was the natural choice. She then progressed on to the Veterinary Care Assistant (VCA) course and has now been accepted on to an Animal Behaviour degree course at the University of Aberdeen.
"I would like to become an animal behaviourist," she said. "Thanks to SRUC, I was able to return to education a long time after leaving school, proving that you are never too old."
As part of their course, VCA students spend a minimum of 600 hours gaining work experience in a practice, and after completing her placement at Ardene House - Aberdeen's only hospital-standard veterinary practice - Nikki is also now working there on a part-time basis.
Laura, 40, who lives near Turriff in Aberdeenshire, had worked in various roles - including ten years at Aberdeenshire Council, after graduating from university but when the pandemic hit, she decided it was time to change career. 
"I always knew I wanted to learn more, and the pandemic made me realise that at my age it was now or never," she said.  "I have always been an animal lover and coming from a farming background I knew that the rural direction was the way forward for me."
Laura started her VCA placement at Mintlaw Vet Surgery in November 2020 and has now been offered a permanent job as a Veterinary Care Assistant.
"The team at Mintlaw has been so supportive and after entering as a complete newcomer, I have learned – and continue to learn – many new skills," she said. "When I was offered a permanent job, I accepted it straight away as I knew this was an opportunity I could not let slip away. 
"I will always be so grateful to the team for taking me on during this difficult time which has caused so much change to the way practices have had to operate. 
"I feel that I have accomplished so much in such a short space of time.  It has truly been life-changing and I am so excited for the future."
When she left school, animal lover Ceara Anderson wanted to study something which involved animals.
After completing the one-year VCA course, and doing a placement at the Town and Country Veterinary Group in Banchory, the 18-year-old from Aberdeen has been offered a full-time job as a Veterinary Care Assistant at the Millburn branch of the practice.
"Everyone at the practice has been great at supporting me through my course," she said. "In the future I hope to continue furthering my skills in animal care as well as becoming a registered Veterinary Nurse."
For more information about studying at SRUC, visit: www.sruc.ac.uk/courses
Posted by SRUC on 02/06/2021