From classrooms to care homes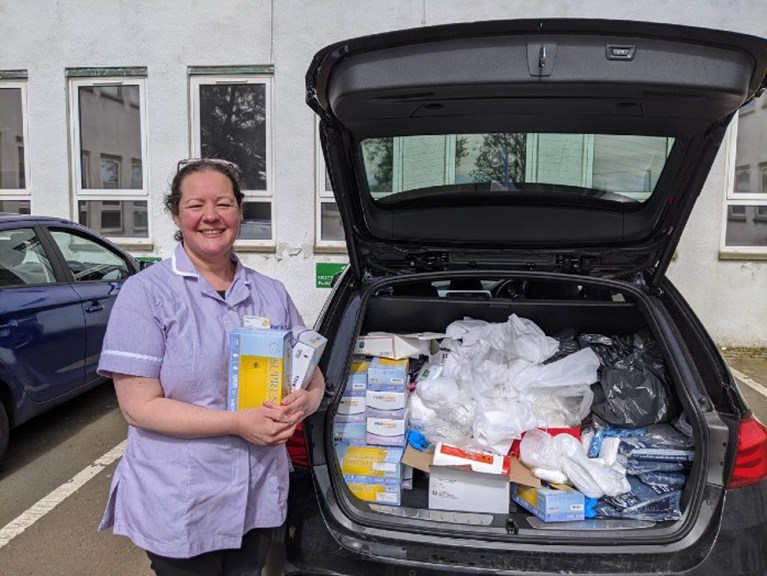 Ann Charles from Marie Curie collects PPE donations from SRUC.


SRUC has been donating supplies of personal protective equipment (PPE) to the NHS, care homes and charities across the country.
PPE has been collected from the SRUC teams based at the Oatridge, Barony and Edinburgh campuses, Easter Howgate farm, the Roslin Institute at the Bush Estate and Inverness.
The donations include thousands of pairs of latex gloves and hundreds of pairs of surgical gloves and shoe covers, as well as aprons, face masks and hand sanitiser.
Scott Mitchell, a technician from the engineering team at Oatridge, co-ordinated a campus-wide collection with colleagues from the Animal Care and Horticulture and Landscaping departments.
The supplies were dropped off at three local care homes in Broxburn, Uphall and Linlithgow.
Scott said: "As we've all seen, care homes are being hit particularly hard by this awful virus. We had all this PPE sitting around and we have no use for it just now, so I felt we could donate it and try to make a difference."
A car full of PPE collected by colleagues at SRUC's Edinburgh campus was picked up by Ann Charles, a healthcare assistant from Marie Curie, which supports families living with a terminal illness.
She said: "Marie Curie is experiencing the same issues with PPE as our partners in the NHS and community care. We can only relieve pressure on the NHS by caring for dying people, with and without coronavirus, at home and in our hospices if we have the right PPE equipment available. We'd like to say a huge thank you to SRUC for this generous donation."
Meanwhile colleagues at the Barony campus have donated oxygen, sterile gowns and gloves, face masks, caps, shoe covers, aprons and examination gloves to the NHS in Dumfries and Galloway, and Laura Nicoll, a senior research technician at SRUC's Easter Howgate beef and sheep research centre, donated face masks to a nursing home in Peebles.
She said: "We had two boxes of face masks that we couldn't use as they weren't ones staff had been fitted for, so they were obsolete.
"I have a friend who is a paramedic who had been accepting offers of face masks, but they had just received their official PPE, so asked if we could send them to the care home."
In the north of Scotland, the team from the Scottish Marine Animal Stranding Scheme (SMASS) has returned sealed, sterile medical-grade PPE sourced from medical suppliers, including disposable gowns and boxes of gloves, to the NHS.
Team leader Andrew Brownlow said: "We had full arm cover, neck-to-knee disposable gowns which offer a higher level of protection than your standard apron.
"We decided to pass these on to people who seemed to need them a lot more than we did in the current circumstances."
Posted by SRUC on 21/04/2020