Foundation gift funds education opportunities at SRUC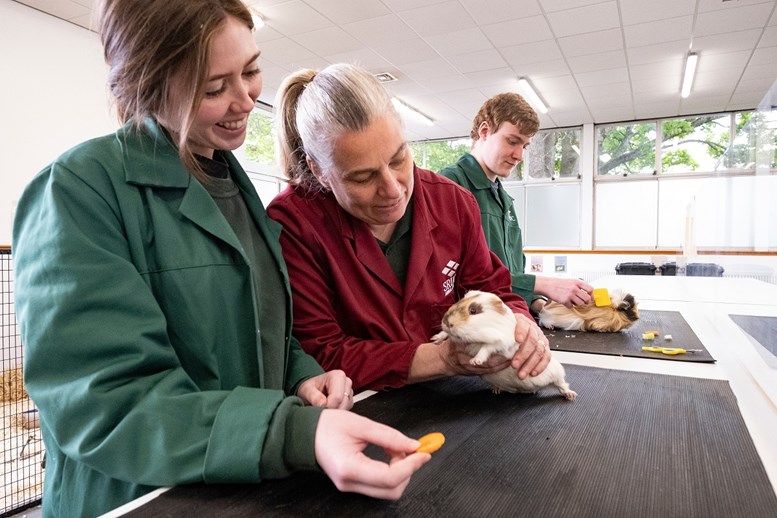 A new bursary will support students moving into higher education
A generous donation from the David Doig Foundation will enable SRUC to support more students through their studies over the next four years.
The gift will fund a David Doig bursary for a Further Education student moving into Higher Education. It will also allow SRUC to pay student leaders to run peer support groups.
The foundation, administered by Foundation Scotland, was set up in memory of David Doig, who was a passionate believer in lifelong education having left school with no qualifications.
The gift was made by David's wife Gillian after she visited the Animal Care Unit and Horticulture facilities at SRUC Elmwood, in Cupar, Fife, earlier this year.
The David Doig Going Further Bursary will recognise an existing student's achievements and their future potential, allowing them to progress from a National Certificate course into a Higher National Certificate/Diploma or degree course.
The Foundation is also funding five students to lead Peer Support Groups, running community-building events, organising study groups and creating useful resources.
Gillian Doig said: "I am delighted to honour my late husband's memory by supporting SRUC and the great work it does. It is exciting that the David Doig bursary will help to broaden horizons and build futures. This investment will go a long way to enhance and enrich the education journey of future learners and leaders."
Pauline Hanesworth, Head of Learning and Teaching at SRUC, said: "Leading a Peer Support Group is a fantastic way to build confidence, develop skills and enhance employability – all while building communities that support other students to learn and develop.
"We are grateful to receive this gift from the David Doig Foundation which will help us pay students for their leadership activities, get more students involved and support them so they feel they belong at SRUC."
For more information about how you can support SRUC, visit: www.sruc.ac.uk/donate.
Posted by SRUC on 08/06/2023