Former Barony student up for Young Farmer award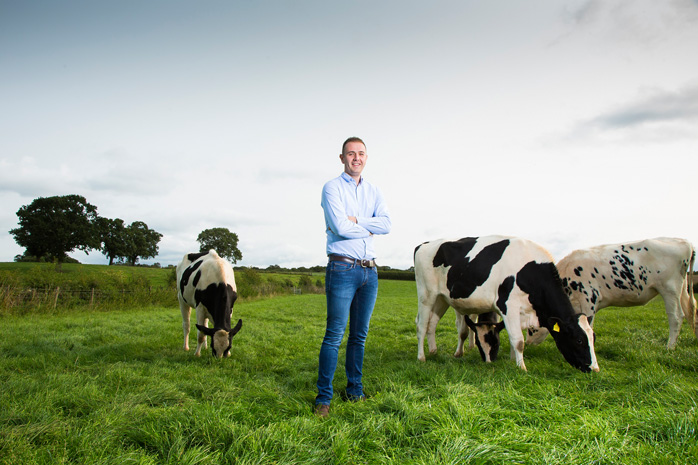 "Former Barony student and herd manager Eamon Monaghan is up for a Young Farmer of the Year award"


A former Agriculture student and herd manager at SRUC's Barony campus has been shortlisted for a Young Farmer of the Year award.
Eamon Monaghan, who graduated with an HNC in Agriculture in 2012 before becoming an assistant herd manager at Barony, is a finalist in the Northern Farmer awards which will be announced on 27 February.
The 25-year-old, from Penrith in Cumbria, said: "I feel very honoured to have been nominated for the Young Farmer of the Year award. I am humbled that someone has taken time to nominate me and has recognised me for my contribution to the Cumbrian Young Farmers' community."
Last year, Eamon picked up the Senior Member of the Year award from the National Federation of Young Farmers' Clubs. He was also named Student of the Year for both of the two years he studied at SRUC.
Eamon chose to study at Barony because it meant he could return to work for a dairy farm back in Penrith on the weekends and holidays.
After finishing his course, he was employed on the campus's dairy farm, before returning to Penrith to manage a 350-head herd of cows. He then moved into the world of genetics, working at Cogent Breeding as a Genetic Consultant and then as part of the team which set up World Wide Sires in the UK.
He returned to Cogent Breeding to work as an International Sales Manager, where he spends half his time travelling to Asia, Australasia, the Middle East and Russia and the other half at home in his Penrith office.
He has fond memories of his time at Barony and still keeps in touch with a small group of friends.
"My background was always in dairy farming so the course was a great way to boost my knowledge of the other aspects of agriculture," he said. "It prepared me for my career, with exposure to industry professionals and other like-minded individuals.
"We were all very passionate about working hard and playing hard and we all have some great stories to share."
He has always been driven to succeed and his goal in his career is to continue to do his best.
"I believe if you work hard and give 110 per cent, opportunities always find you. I never expected to be in the position I am now. I'm probably very biased, but I believe I have the best job in the world."
Visit Agriculture for more information about studying at SRUC, including two new degrees in Agriculture Technology and Sustainable Food Production and Land Use being introduced this year.
Posted by SRUC on 21/02/2020