Forestry lecturer takes his leaf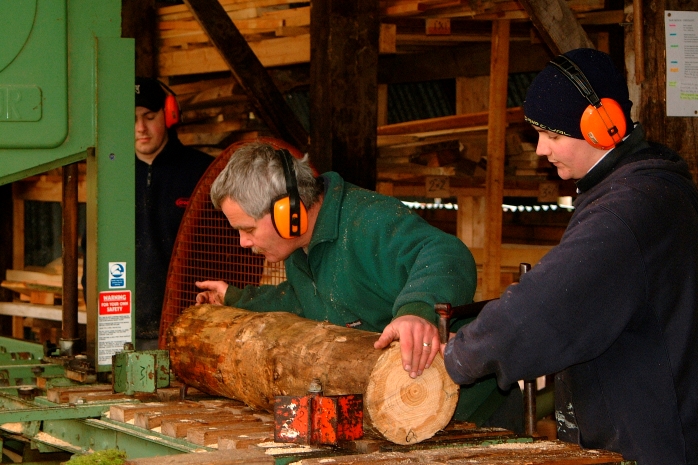 "Tom Karas has seen many changes during his 40 years at Barony."


A popular forestry lecturer is retiring from Scotland's Rural College (SRUC) more than 40 years after being appointed to develop and deliver forestry courses.
Tom Karas, who was awarded an MBE in the Queen's 90th birthday honours list in 2016, joined what was then Barony Agricultural College near Dumfries in 1980.
Together with John Bartle, he was initially tasked with developing and delivering 12-week-long forestry courses for Youth Opportunity Programme trainees.
The courses have continued to run ever since under many guises, including block release, short and full-time courses.
The forestry department at Barony, which became part of SRUC in 2012 after it merged with Elmwood, Oatridge and the Scottish Agricultural College, has also seen many changes over the years.
"Our base started as the potting shed down at the walled garden," said Tom. "We then received funding to build the front third of the forestry shed. This was extended to its current size before EU money was used to build the Scottish Forest Industry Technology Centre (SFITC) – known as the upturned boat – and the Forest Engineering workshop.
"Classrooms and offices have also changed over the years, from blackboards to whiteboards and now smartboards, and from no computers, to a computer room, tablets and smart phones.
"We were even ahead of the game when we were involved in a trial of on-line, Europe-wide training.
"It has been 40 years with never a dull moment. We have always been prepared to embrace change for the benefit of our students.
"Watch this space as the ever-evolving team take us through the next ten years to the big 50."
Tom, who was also Senior Warden for residential students at SRUC Barony, received his MBE for Services to Rural Education in Scotland.
It followed an internal SRUC prize – the Sir Stephen Watson Award – which he received in 2015 following a secret nomination by his students. The award is given to staff who contribute over and above the normal expectations of their role and who deserve wider recognition of their work.
In addition to lecturing, over the years Tom has been involved in organising the annual Barony cross-country run, Christmas Ceilidh, Burns Night Supper and Quiz Nights, as well as driving the minibus for students wanting mid-week visits to Dumfries and other "Tom's Tours".
Professor Nick Sparks, Dean of SRUC's South and West Faculty, said: "Tom's unstinting support of students at Barony has been recognised by the awarding of his MBE and the Sir Stephen Watson award but the recognition goes well beyond these formal acknowledgements.
"Apart from the many forestry students that Tom has guided and encouraged, Tom has been one of the driving forces of Barony's very active extra-curricular programme and in this he has enriched the lives of the vast majority of students, not to mention many staff, that have passed through Barony in recent decades.
"Tom will leave a considerable void when he departs SRUC and we wish him a long and happy retirement."
Posted by SRUC on 30/07/2020