Fields of opportunity for Scottish agricultural apprentices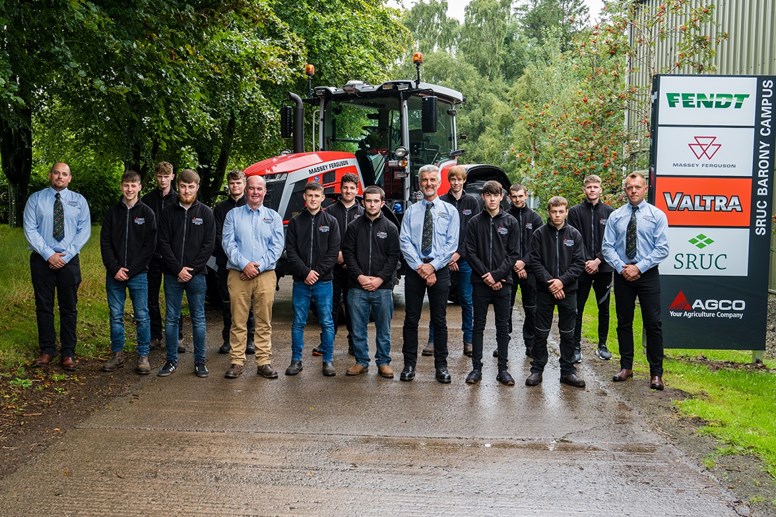 Scottish agricultural engineering apprentices are benefiting from a partnership between SRUC and AGCO.
Twelve apprentices have started a bespoke agricultural engineering course using the latest AGCO products as part of a new partnership between the global agricultural machinery giant and SRUC.
The course, which is being run at SRUC's Barony campus in Dumfries, will complement three other training partners delivering the AGCO Apprenticeship scheme: WCG Moreton Morrell in Warwickshire, Riseholme in Lincolnshire, and Coleg Cambria Llysfasi in Wales.
Following investment from both SRUC Barony and AGCO, Scottish agricultural engineering apprentices will be able to learn about some of the latest technology in the industry using equipment and training aids on offer from AGCO's Massey Ferguson, Fendt and Valtra brands.
With worldwide demand for food predicted to increase by 60 per cent by 2050, the demand for highly skilled and talented agricultural engineers to service the industry's advanced and complex machinery has never been greater.
Charlie Rollason, Aftersales Training Business Development Manager for AGCO, said: "We are delighted to have selected and partnered with SRUC Barony for all our Scottish provision and are committed to delivering brand new, true AGCO manufacturer-led apprenticeship training through our further education partners, for the Fendt, Valtra, and Massey Ferguson brands."
SRUC Course Tutor for the AGCO Scheme Mark Thomas said: "Our new partnership with AGCO will allow Scottish agricultural engineering apprentices to work towards a recognized qualification within the industry and build a career alongside a global manufacturer."
If you are interested in developing a career as an agricultural engineer, please contact SRUC Barony for further information on 01387 860 251 or by emailing mark.thomas@sruc.ac.uk.
Posted by SRUC on 22/09/2022