Dutch academic honoured by SRUC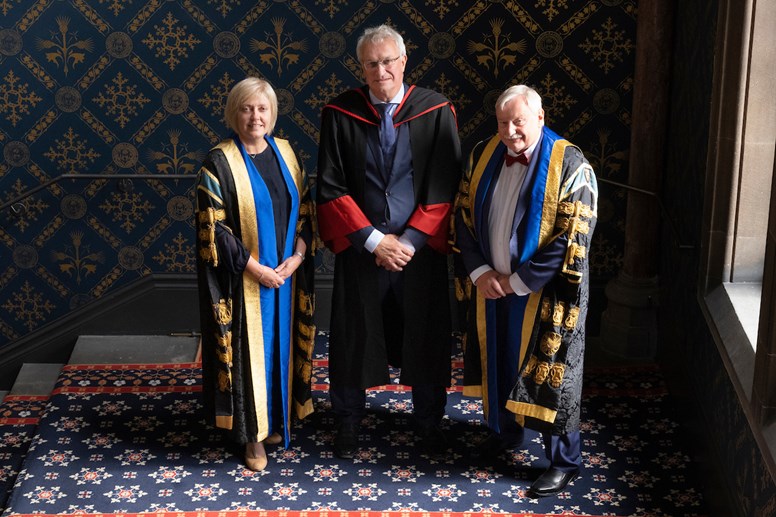 Honorary Fellow Dr Martin Scholten with SRUC Board Chair Linda Hanna and Principal and Chief Executive Professor Wayne Powell.
'Living labs' and international co-operation are key to growing productivity and improving welfare in rural areas across Scotland.
This is according to a noted Dutch academic, who has been named an Honorary Fellow of SRUC at its graduation ceremony in Glasgow.
Dr Martin Scholten, from Wageningen University & Research in the Netherlands, is a driving force behind the concept of circular agriculture, which is based on reusing by-products as resources for feeding animals and fertilising crops in order to reduce emissions.
His honour from SRUC comes following several years of intensive collaboration with the Scottish institution, which has the natural economy firmly at the heart of its ethos.
Dr Scholten, who is also an adviser to the Dutch Ministry of Agriculture, Nature and Food Quality, said: "If we are going to grow productivity and prosperity while improving welfare in our rural areas, it is essential that we make best use of communities' own local natural resources.
"It is increasingly well understood that a more circular economy is key to this, particularly in when it comes to the vital food production sector.
"We need to develop that understanding further with the expansion of integrated, inclusive and interdisciplinary 'living lab' approaches to applied research. And to realise the full potential of these techniques we must harness new forms of national and international cooperation, so that the knowledge we are attaining is shared and applied in diverse settings around the world.  
"SRUC has been at the forefront of developing these approaches in close collaboration with national and international stakeholders like Wageningen University & Research and I look forward to helping them further as a Fellow of this great institution." 
Professor Wayne Powell, Principal and Chief Executive of SRUC, said: "Given the importance of SRUC's academic domain and our areas of specialism, it is only fitting that we assemble influencers, experts and advocates for new ways of working in our community to develop Scotland's natural economy, and we are delighted to welcome Martin to this Fellowship.
"He is always keen to find ways to collaborate across borders, to introduce institutions and organisations who share similar values, approaches and desire for change. His energy, positivity and expertise are exactly what nature-based solutions require at this critical time for the planet and we look forward to our continued collaboration."
Posted by SRUC on 30/08/2022