Digital partners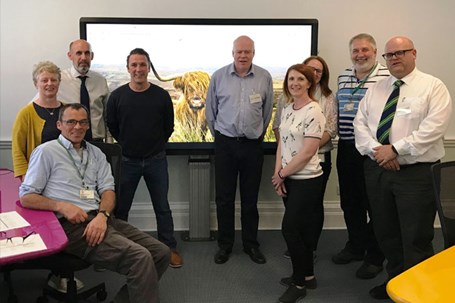 "CAFRE staff learn about SRUC Barony's digital classroom"
Agriculture and equine staff from Northern Ireland got a hands-on demonstration of digital teaching methods during a visit to Scotland's Rural College.
Lecturers from the College of Agriculture, Food and Rural Enterprise (CAFRE) visited SRUC's Barony campus in Dumfries to learn more about its digital classroom after hearing about it at an Irish education conference earlier this year.
SRUC's e-Learning Developer Ali Hastie spoke about the range of innovative digital teaching, learning and assessment methods being used at Barony – and shared across SRUC – at the Teagasc National Education Conference in Ballyhaise in April.
During the CAFRE visit, teaching staff from Barony's agriculture, equine and forestry departments showed their Northern Irish colleagues how they deliver blended learning projects – where students learn via electronic and online media as well as traditional face-to-face teaching – both within and outside of the digital classroom.
Dr. Stephanie Wood, Senior Equine Technologist at CAFRE, said: "The Barony approach to student collaborative learning within the digital classroom was innovative and engaging, both for staff and students, and presents a real world solution to encourage student participation.
"The excellent demonstration and genuine enthusiasm shown by Barony staff have encouraged CAFRE to seriously investigate how we could adopt this technology."
Ali Hastie said: "It was a privilege having CAFRE staff travelling all the way from Northern Ireland to visit our campus in order to find out more about our digital classroom initiative, and learn from a selection of our successful and award-winning digital teaching and learning projects."
Following the visit, staff from SRUC have been invited back to Northern Ireland to share best practice and build on the links between the two institutions.
Posted by SRUC on 08/07/2019