Business skills competition offers £1k prize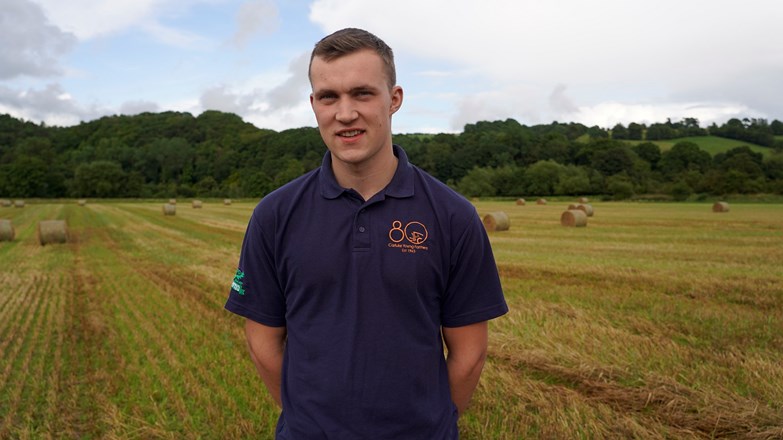 Former SRUC student Jack Young was the 2022 AgriScot Business Skills winner
A business skills competition, which encourages young professionals to think about how to manage an agricultural business, is open for applications.
AgriScot Business Skills, sponsored by NFU Mutual and supported by SRUC, assesses general business skills and awareness of agri-business issues.
It also connects the winners with mentors and networks to help with their personal and professional development.
The competition is open to young people between the ages of 18 and 25, with a £1000 cash prize for the winner and two prizes of £250 for the runners-up.
Applicants can enter by sending in a copy of their CV along with a response to the question: 'What does a sustainable future look like for Scottish Agriculture?'.
The shortlisted candidates will attend one of the regional heats across Scotland, where they will explore a farm business and provide their assessment to a panel of judges.
The winner of each regional heat is then invited to AgriScot on 22 November to participate in the final, where they will review a new product innovation.
Former SRUC student Jack Young, the 2022 winner, said: "The regional heat was really interesting. We went round individually with a couple of judges and mentors. They asked us questions, picking up on our knowledge of farming, with the aim of understanding how much we knew about the industry. This was all on-farm and there was no pressure at all.
"The £1,000 prize is tremendous, but it wasn't just the money I came away with. I developed further skills in time management and strategy, which is helping me with our home farm business."
Heather Kerr, SRUC lecturer and AgriScot Business Skills Coordinator, said: "The topic this year provides flexibility and scope for applicants to look at what sustainability means for Scottish agriculture. Whether it is sustainability in terms of our landscape, people, environment, cropping and/or livestock, there is no response that is off limits.
"We are looking for someone who is enthusiastic about the agriculture industry and is looking to develop their business skills, while taking advantage of the networking opportunities on offer from this competition."
Martin Malone, NFU Mutual Regional Manager of Northern Ireland and Scotland, said: "Agriculture is continuing to adapt to the needs of consumers, political pressures, regulations and accreditation schemes, to name but a few, but what doesn't change are the skills required by our most precious asset, our people.
"The AgriScot Business Skills Competition brings forward young people who inspire and challenge the status-quo, and investing in their skills development is vital for our sector."
Previous winners have gone on to develop their own businesses, take on key leadership roles within the sector, and this year, will see two of them join the judging panel for the AgriScot Product Innovation award, celebrating new innovation.
To find out more about the competition, visit www.agriscot.co.uk or email Heather via heather.kerr@sruc.ac.uk. Applications close on Friday 6 October.   
Posted by SRUC on 12/09/2023