Breeding Heifers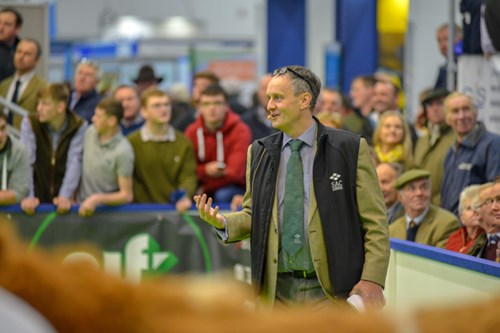 "Students from SRUC's Oatridge campus will take part in an interactive beef demonstration at AgriScot today"


Students from SRUC's Oatridge campus will take part in an interactive beef demonstration at AgriScot later this month.
The students will assist Senior Beef Specialist Gavin Hill, of SAC Consulting – part of SRUC, and Stevie Rolfe, from SR Cattle Services, in the demonstration focusing on the selection and management of breeding heifers to maximise output and reduce calving problems.
The aim of the demonstration, supported by Quality Meat Scotland (QMS), is to raise awareness of the relationship between the management actions farmers take and how it can impact on profitability throughout their lifetime.
Gavin said: "It is vital we choose the right heifers to breed from. They are the future of the herds and we must take all steps to ensure they will suit not only the farm environment, but provide the right cattle to the marketplace.
"Change continues to occur in our cow types with many aiming to reduce the maternal weight, while focusing on traits such as milkiness, fertility and fat cover, resulting in a win-win for businesses with both productive females for breeding and animals with the carcase required to meet market specifications. Pre-bulling checks and heifer selection can only help in this."
Sarah Millar, QMS Head of Industry Development, said: "Beef farmers are under constant pressure from tightening margins due to the increased cost of inputs, so paying particular attention to our breeding systems will help us continue to have an efficient herd fit for the future.
"When heifers encounter calving difficulties, it can have severe economic consequences along with a long-term impact on the herd. Factors such as breed, age and frame are routinely considered along with choice of bull, but increasingly we are seeing more breeders choosing to carry out pre-breeding examinations, from checking if the ovaries are active to undertaking actions such as pelvic measuring to determine if the pelvis is big enough and correctly set to allow easy calving."
The audience will be asked to use digital voting pads to answer questions about breeding heifers from SRUC's Oatridge campus herd.
Posted by SRUC on 11/11/2019