Birthday girl Rhona celebrates British Farming Awards nomination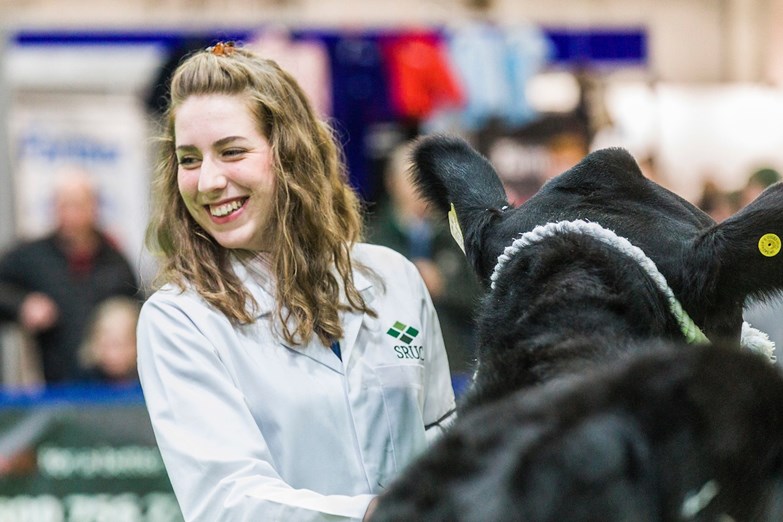 Rhona Campbell-Crawford at AgriScot.
An SRUC student had an extra reason to celebrate her 21st birthday after being shortlisted in the British Farming Awards.
Rhona Campbell-Crawford, a fourth-year Honours student from Crieff, is up for the title of Agricultural Student of the Year, despite not coming from a farming background.
The news of being shortlisted came during an exciting few days for Rhona, during which she turned 21 and also competed in her first BE100 event on her horse, Buddy.
She said: "It is a super feeling to be shortlisted in the British Farming Awards. Having this opportunity shows that you don't need to come from a typical farming background in order to be recognised for your contributions.
"I try to work hard to get to where I want to be, and always strive to do the best I can. Although I know I have a long way to go, it gives me great pride that my journey so far has been recognised to the extent of possibly receiving an award for it."
Agriculture lecturer and programme leader Craig Davidson nominated Rhona as a "standout role model" to her fellow SRUC students.
He added: "We are very happy anytime we see our students recognised for their accomplishments so seeing Rhona excel in her efforts to build a foundation for her career is both exciting and inspiring. I am very proud of all she has done while representing SRUC impeccably and wish Rhona nothing but success."
As well as Rhona, SRUC will be keeping its fingers crossed for three former students, who are also up for prizes on the big night.
David Eglin, who graduated back in 1963 and who now farms in Warwickshire, is shortlisted in the Sheep Farmer of the Year category, while Kirstie Baird, along with her father Andrew, will be competing for the title of Grassland Farmer of the Year.
Iain Wilkinson, meanwhile, will be hoping to take home the Arable Farmer of the Year award.
Organised by Agriconnect, parent company of Farmers Guardian, Arable Farming and Dairy Farmer, the British Farming Awards is supported by Morrisons.
The awards ceremony will take place in Birmingham on 20 October.
Posted by SRUC on 16/08/2022