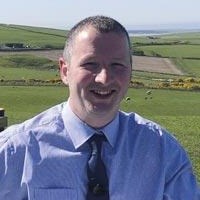 Hi I'm
Willie Budge
Position: Senior Consultant and Area Manager
Location: Highlands and Islands
Expertise:

Business Management and Finance
Agriculture, Crops and Soils
Livestock and Fishing
I am an experienced consultant with over 25 years of experience in the agricultural industry. I am responsible for the management of SAC Consulting's Thurso office. The office currently services clients in Caithness and Sutherland with a broad range of consultancy services. This includes IACS, AECS, CAGS, Carbon Audits and ILMPs.
I previously worked as an Agricultural Officer with SGRPID, before moving to SAC in 2009. I have broad industry knowledge, gained from clients as well as through personal experience growing up on a family farm and subsequently working on farms and in auction markets in Caithness and Sutherland.
I am an experienced chairman of events, open days and groups including local agricultural society and chairman of local Highland sheep event.
I also completed half of the RSABI Great Glen Challenge 2018 bike race with one pedal.
Areas of expertise and interests
Business Management and Finance
Agriculture, Crops and Soils
Livestock and Fishing
I'm currently working on
carbon audits
integrated land management plans
croft regulatory applications
My professional highlights
facilitating the Caithness and Sutherland Monitor Farm (CMS) in 2011-2013
chairman of Highland Sheep 2019
Find out more about our consulting services