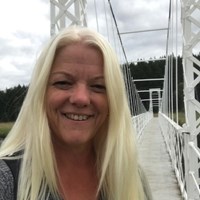 Hi I'm
Wendy Rattray
Position: Lecturer in Animal Care and Veterinary Science
Location: Craibstone Campus
Expertise:

Animal Care
Veterinary Medicine
I provide delivery of blended units, online, in person and practical classes.  Currently I am the Year Tutor for NC Animal Care which is around 60 students. I teach over many SQA levels to include Introduction to NC Animal Care, NC, HND years 1 and 2 and VCA.
I am a Registered Veterinary Nurse since 1992 and completed TQFE in 2022 after 10 years of teaching.
I love Munro bagging or any type of hiking and Kettlebell gym activity and currently train with Scottish Champions in KB Sport but have no desire to compete.
Areas of expertise and interests
Animal Care
Veterinary Medicine