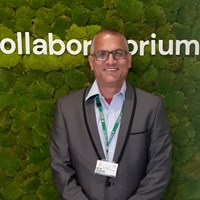 Hi I'm
Dr Vijay Kumar Thakur
Position: Head of Biorefining and Advanced Materials Research Centre
Location: Barony Campus
Expertise:

Agriculture, Crops and Soils
Climate, Environment and Wildlife
Energy
Food and Drink
Technology
Natural Economy
I am a Biorefining and Functional Materials Professor and the Head of the Biorefining and Advanced Materials Research Centre (BAMRC). I am a polymer chemist by qualification and a materials scientist by training. My research activities span the disciplines of Biorefining, Bioplastics, Biomaterials, Green Chemistry, Composites, Manufacturing, Nanomaterials, Polymers, Packaging, Photocatalysts, Recycling, and all aspects of Advanced and Sustainable Materials.
I joined SRUC in 2020 and have previously held positions at the School of Aerospace, Transport and Manufacturing, Cranfield University, UK; the School of Mechanical and Materials Engineering, Washington State University, USA; and Temasek Laboratories @ NTU, Research Techno Plaza, Nanyang Technological University – Singapore; Department of Materials Science & Engineering, Iowa State University, USA and Department of Chemical and Materials Engineering - LHU – Taiwan.
My group's current research efforts focus on the design, synthesis, characterisation and applications of monomers/ polymers from biorenewable resources; bioplastics; biomaterials; environmental remediation; utilisation of waste materials; biofuels and biobased products; recycling; intelligent materials; functional surface coatings; polymer aerogel/ hydrogel, photocatalysis, sensing, nanotechnology and nanomaterials.
I have published over 350 SCI journal articles in the field of chemical sciences/ materials science and hold one United States patent. I have also published 54 books and 42 book chapters on polymer science/materials science/nanotechnology with numerous publishers.
I sit on the editorial board of several SCI journals as Associate Editor/ Editor/ Editorial Advisory Board Member.
Areas of expertise and interests
Agriculture, Crops and Soils
Climate, Environment and Wildlife
Energy
Food and Drink
Technology
Natural Economy
I'm currently working on
Bioplastics and sustainable packaging: (aspects of packaging include technology; materials; design and manufacturing; environmental factors; food packaging; future packaging)
Bio-renewable materials: wood / natural nano cellulose fibres, bio-resins and utilisation of waste biomass for practical uses
Recycling: waste re-utilisation, resource recycling, waste management technologies, resource recovery, and waste utilisation across industries, including paper, plastic, textiles, glass, metals, and electronics.
Additive manufacturing: (3D/4D printing) of biopolymers and biocomposites
Energy: batteries; bioenergy; biohydrogen; fuel cells; capacitors; solar, thermal, and PV; Polymer electrolytes
Photocatalysis: synthesis and characterisation of new photocatalysts; Photocatalytic elimination of environmental pollutants; Photocatalytic hydrogen generation and CO2 reduction; Combination of photocatalysis with other technologies, such as membrane technologies and photo electrocatalysis.
Multifunctional polymer composites and nanocomposites: self-healing, structural composites, rheology, thermal, spectroscopic and microscopic analysis
Nanoelectronic materials: green synthesis of nanomaterials and surface functionalisation of polymers/nanomaterials
Hydrogels: synthesis, characterisation and applications in controlled release of fertilisers; water treatment; soil remediation, and biomedical
Membranes: sustainable membrane materials for applications in water purification, biomedical and energy storage
Nanofiber production and application in biomaterials and sustainable/ smart textiles
Additional links