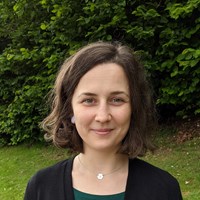 Hi I'm
Sarah Erbanova
Position: Consultant
Location: Craibstone Campus
Expertise:

Business Management and Finance
Energy
Climate, Environment and Wildlife
Natural Economy
I am a Consultant in the SAC Consulting Environment Team. I joined SAC Consulting in 2021 following three years working in the retail property sector as a member of a corporate sustainability team.
In SAC I have supported a range of projects, such as agricultural greenhouse gas (GHG) footprinting and development of GHG mitigation initiatives for a major UK retailer. I've also worked on delivering a peatland restoration management plan, as well as peat condition/depth and other field surveys, working in collaboration with the Woodland Team. I am leading on the implementation and maintenance of our Environmental Management System and ISO 14001 Accreditation.
I have completed a Masters degree in Sustainable Environmental Management at the University of Derby, during which I established a passion for sustainability across a wide range of sectors. I am also a former honours student of Sustainable Environmental Management at SRUC. During my studies I gained an in-depth understanding of pollution remediation, ecology and conservation, low carbon management, and sustainable business management.
In my previous role I regularly carried out environmental and energy audits of a variety of retail assets across the UK and Ireland and I am experienced in environmental data collection, analysis, and reporting. My skillset also includes stakeholder engagement, charity and community support.
Away from work I enjoy spending my time outdoors geocaching, identifying plants and animals using apps on my phone.
Areas of expertise and interests
Business Management and Finance
Energy
Climate, Environment and Wildlife
Natural Economy
Find out more about our consulting services