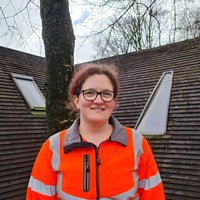 Hi I'm
Sam Howard
Position: Lecturer
Location: Barony Campus
Expertise:

Forestry and Estate Management
Climate, Environment and Wildlife
Technology
I am a Forest Manager that has returned to academia to prepare the next generation of Foresters. My focus is on making sure students are equipped with the skills to excel in the workplace. I use a mix of exercises, workshops, site visits and presentations to deliver course material to reflect the dynamic nature of the workplace in the forestry sector.
After graduating in 2017 from Bangor (BSc Forestry with Placement) and Aberystwyth (MSc Remote Sensing & GIS), I moved to Dumfries following visits. I fell in love with the region, both the welcoming faces and the beautiful landscape. Some of my favourite places to visit are New Abbey, Rockcliffe, Castle Douglas, Loch Arthur, Ettrick, and Ken. My love of open water swimming, kayaking/canoeing, sailing, and camping make this the perfect location. A nice coincidence that it is one of the busiest regions for commercial forestry in the UK!
Since relocating to Dumfries, I have worked for Savills and Scottish Woodlands. In these roles I planned, supervised, and managed forestry operations; developed databases and mapping practices; developed forest plans; built client relationships; networked across the industry; had a position on a FISA (Forestry Industry Safety Accord) working group and attended Timber Transport Meetings. But the key has always been time management and problem solving.
Currently I sit on the Learning and Behaviour Working FISA Working Group and attend networking events to stay connected to the forestry Sector. My academic interests are related to Operational Planning, Mapping/GIS but you will find me reading up on wildlife conservation, tropical ecology, and fire ecology/management.
How would I describe myself? Approachable, patient and practical.
Areas of expertise and interests
Forestry and Estate Management
Climate, Environment and Wildlife
Technology
Find out more about our services