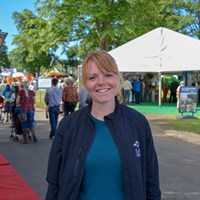 Hi I'm
Poppy Frater
Position: Senior Specialist
Location: South East Scotland
Expertise:

Agriculture, Crops and Soils
Climate, Environment and Wildlife
Livestock and Fishing
Natural Economy
I am a Sheep and Grassland Specialist as part of the national Beef and Sheep Specialist team of SAC Consulting. As a specialist, I hold in depth technical knowledge on sheep nutrition, flock performance and grassland management. This serves me to support the local consultant teams and contribute to various knowledge exchange programmes throughout Scotland and England (such as Farm Advisory Service, QMS, KTIF funded groups).
Prior to this role, I worked with AHDB Beef and Lamb in the Research and Development team and FARMAX Ltd (a farm decision support service in New Zealand). I enjoy working with farmers who are keen to make more of their pasture. I launched a new service, GrazeUP, which is based on using FARMAX software to analyse farm performance and strategize farm management improvements.
Alongside my role, I am completing a PhD entitled 'Is mob grazing beneficial to the soil health and environment?'. I believe pasture management is a key opportunity to improve farm sustainability and am driven to understand more about the role of carbon sequestration on livestock farms.
Areas of expertise and interests
Agriculture, Crops and Soils
Climate, Environment and Wildlife
Livestock and Fishing
Natural Economy
Find out more about our consulting services