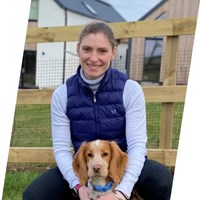 Hi I'm
Dr. Pippa Morrison
Position: Senior Lecturer
Location: Craibstone Campus
Expertise:

Veterinary Medicine
Animal Care
I graduated from the University of Aberdeen in 2011 and following a chance discussion with a family friend in a supermarket carpark about life after university, I upped sticks and moved down to the Wirral to undertake a PhD at the University of Liverpool, funded by the pet nutrition company, WALTHAM.
Having grown up immersed in all things equine, regularly competing my own horses and ponies round the country, the PhD combined science and horses to focus on aspects of equine obesity; utilising molecular approaches to determine the gene and protein expression of key players involved in energy balance and trying to better understand horse-owner recognition of obesity.
Following completion of the PhD in 2015, I undertook a post-doctoral position at the University of Surrey, working on a very hands-on study to determine the effects of age and obesity on the faecal microbial communities in Welsh Section A pony mares fed a range of different diets.
In August 2018, following a period of maternity leave, the opportunity arose to return to my home country to take up a position at SRUC where I helped set up the equine facilities and led the roll-out of the Equine Studies HNC/D programme in Aberdeen when it commenced in 2021. I attained my teaching Fellowship in 2022 following completion of the PgCert in Tertiary and Higher Education. 
I remain actively involved in research, my interests focusing on aspects of equine obesity and metabolic diseases including laminitis, where I'm currently co-supervising 2 PhD projects investigating different factors that may be playing a role in the development of pasture-associated laminitis in ponies.
Outside work, life is very busy with a 5-year-old daughter, 3-year-old twin boys and a cocker spaniel puppy, but when I do get some time to myself, I enjoy cooking and running and hoping to get back in the saddle one day soon, having been horse-less since my PhD days!
Areas of expertise and interests
Veterinary Medicine
Animal Care