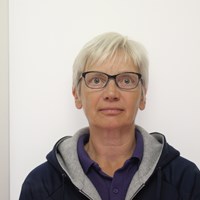 Hi I'm
Dr Pamela Johnston
Position: Veterinary Senior Lecturer
Location: Craibstone Campus
Expertise:
I am a veterinary surgeon, I graduated from the Royal (Dick) School of Veterinary Studies, University of Edinburgh.  After a period working in both mixed and small animal practice I moved into academia and via a PhD into the field of veterinary neuroanatomy and neuropathology ultimately focusing on veterinary pathology.  For many years I worked in diagnostic pathology at the University of Glasgow before becoming department lead (Pathology, Public Health and Disease Investigation) and Clinical Director of Veterinary Diagnostic Services. Recent focus has been on development of pathology teaching and course design for veterinary undergraduates. 
I have created two veterinary pathology courses: one as a stand-alone course and one as a pathology stream in an integrated systems course.  I have led the development of active learning modules for veterinary students and the introduction of live interactive streaming of post mortem examinations. I was also involved in the development and delivery of  OV training modules in Food Safety for FSS and DAERA, as well as a postgraduate microcredential funded by Scottish Funding Council "Veterinary Practitioners and the Food Supply Chain".
I have provided veterinary pathology expertise to a range of collaborative research projects investigating both animal (canine degenerative myelopathy, feline osteoarthritis, feline infectious peritonitis, equine grass sickness, equine sarcoids, equine influenza) and human health (trypanosomiasis, paediatric leukaemias). Development and assessment of new diagnostic tests (PARR,More recently my research has been focussed on veterinary education and scholarship.
I am based at Craibstone.
Areas of expertise and interests
I'm currently working on
Curriculum development for the SRUC veterinary programme (BVSci).

Causes of periweaning death in the UK pig herd.

Establishment of a database of pathology and veterinary public health images easily searchable and available for undergraduate, postgraduate and CPD training purposes.
My professional highlights
While at University of Glasgow I gained a few teaching awards:
School of Veterinary Medicine Best Lecturer 2012
Best Lecturer of the Year 2013-14
PPHDI Teaching Staff Member of the Year 2021-22
Additional links
Find out more about our veterinary services