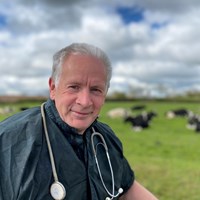 Hi I'm
Dr Mike Christian
Position: Innovation Broker
Location: Barony Campus
Expertise:

Livestock and Fishing
Technology
Business Management and Finance
Food and Drink
Climate, Environment and Wildlife
I am a farm animal veterinary surgeon with commercial and technology transfer experience. I was a partner at Belle Vue Vets, a large dairy vet practice. After Foot & Mouth I worked for Defra's Veterinary Laboratory as the Commercial Manager leading to a start up rapid diagnostics company. After a spell in industry as Ruminant Technical Consultant for Elanco, my passion for technology transfer has led to a number of project management and consultancies for the majority world. I founded www.livestockdevelopment.co.uk and produced a series of dairy training videos. I was working for University of Edinburgh as a Consultant Project manager prior to coming to the Digital Dairy Chain where, as Innovation Broker, I am the link between academia and industry and look for new project possibilities.


Areas of expertise and interests
Livestock and Fishing
Technology
Business Management and Finance
Food and Drink
Climate, Environment and Wildlife
I'm currently working on
I am looking for new projects anywhere in the dairy chain from growing feeds to the packaging for cheese.
Additional links
Find out more about our consulting services