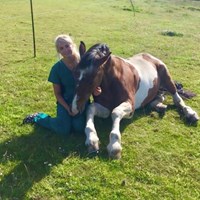 Hi I'm
Marina Mclaughlan
Position: Lecturer in Veterinary Nursing
Location: Craibstone Campus
Expertise:

Veterinary Medicine
Animal Care
Livestock and Fishing
I am a Veterinary Nursing Lecturer working from Aberdeen Craibstone Campus. I graduated from Edinburgh Napier University with an Honours degree in 2015. After this I went on to work at various Veterinary Practices. I have worked with a variety of species of small animal, exotic, large and equine. During my time in practice, I found my passion for teaching as a clinical coach for SVN and VCA students.
I have recently completed a certificate in Emergency and Critical Care (ECC). Emergency nursing is something that I find to be extremely rewarding so I was keen to further my knowledge in this area.
You might recognize my face from around the Craibstone campus as for the past year I have been teaching Animal Care. I am now back in a full-time role teaching on The Veterinary Nursing programme.
In my free time I enjoy hiking 'munro bagging', weightlifting, jogging and spending time with my animals. I care for lots of animals including a dog, two horses, chinchilla, tortoise, cockatiels, inverts and various poultry.
Areas of expertise and interests
Veterinary Medicine
Animal Care
Livestock and Fishing