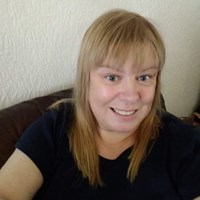 Hi I'm
Lorraine Johnston
Position: Bee Advisory Officer
Location: Barony Campus
Expertise:

Climate, Environment and Wildlife
Natural Economy
Livestock and Fishing
Food and Drink
Forestry and Estate Management
Policy
I began my job as SRUC Bee Advisor in April 2022.  I was a secondary school teacher for 30 years of Religious, Moral & Philosophical Studies, Psychology, Social Subjects and National 5 Beekeeping. I have a BA hons in Religious Studies and a Post Graduate Certificate in Secondary Education. I was inspired to get into beekeeping by my grandfather who kept bees and my golden Labrador who led me to cancel a holiday and go on a beekeeping course. I have been keeping bees since 2014 and now share responsibility for around 50 hives in the southwest of Scotland.
I am a member of the Scottish Beekeepers Association and am qualified to Intermediate level, I am aiming to become a Scottish Bee Expert. I am also the Chair of the South of Scotland Beekeepers Association and on the SBA young beekeepers working group.
My job involves targeted and strategic education for hobby beekeepers, bee farmers and the general public. My focus is on honeybees as they are classed as livestock. I will be providing education on varroa which is a mite that sucks on the bees fat bodies. I am available to give talks on honeybees, pests and diseases, biosecurity, starting out with bees, honey and hive products, pollination and more. I am based at the Barony Campus. In the bee season (May to September) I am out in the field mentoring the bee inspectors all around Scotland who inspect for notifiable brood diseases. My job also involves preparing and presenting at events such as the Highland Show and the Scottish Beekeepers Convention. In my spare time run a school bee club. My aims are to improve standards and promote best practice in beekeeping. I am also a registered member of beebase which has lots of free advice for beekeepers. 


Areas of expertise and interests
Climate, Environment and Wildlife
Natural Economy
Livestock and Fishing
Food and Drink
Forestry and Estate Management
Policy
I'm currently working on
Developing a varroa learning package and working with the Varroa Working Group to help meet the plans contained in the Honey Bee Health Strategy.
During the winter months I am working on online and in person talks to beekeeping associations and other interested groups on bee health.
Creating educational resources on bee health topics.
Being more involved in social media and provide blogs and videos on bees, honey and beekeeping
Meeting with members of the bee health team regularly to update on issues and the honey bee health implementation plan..
Advising beekeepers on biosecurity, keeping bees & disease prevention.
My professional highlights
The students I teach at bee club winning the Enid Brown Salver for best school at the Scottish Honey Show and my honey winning a second prize.
Advising beekeepers on Mull who found varroa on the island and helping those in Lanarkshire who had an outbreak of AFB.
Giving a talk to SRUC vet services.