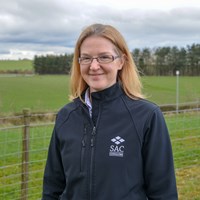 Hi I'm
Lorna MacPherson
Position: Senior Consultant
Location: North East Scotland
My professional highlights
I work as a Dairy Consultant in the Inverurie consulting office and have a strong academic background combined with extensive knowledge of the animal feed sector and practical on farm experience.
My responsibilities include providing advice on dairy herd management with a specialism in nutrition and ration formulation. I also have in-depth knowledge of youngstock nutrition and management as well as a particular interest in mineral nutrition. My work with dairy farmers covers Scotland but mainly focuses in the North East and Orkney.
I have over 12 years experience in the animal feed industry, having worked as a Ruminant Nutritionist for East Coast Viners Animal Nutrition, Agri-Lloyd International Ltd. and Norvite Animal Nutrition Ltd.
As well as my technical expertise, I am experienced in project management and meeting facilitation through delivering KTIF and UIF projects. I have also helped organise and deliver several Farm Advisory Service meetings and large on-farm dairy events to provide knowledge transfer of research outcomes to farmers and the dairy industry.
Find out more about our consulting services