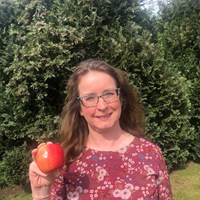 Hi I'm
Dr Lorna Cole
Position: Agricultural Ecologist
Location: Barony Campus
Expertise:

Agriculture, Crops and Soils
Climate, Environment and Wildlife
Natural Economy
Policy
I draw from over 25 years working in the field of agroecology. I feel that agro-ecological principles are key to meeting perhaps our greatest challenge – How can feed our growing world population whilst protecting our environment? I'm based at Auchincruive Estate and SRUC Riverside, Ayr.
To help address this challenge, I am actively involved in a wide range of research projects exploring how biodiversity goals can be positively incorporated into agricultural systems in an economically viable way.
I love being out and about in the countryside, hill walking and spotting wildlife. As keen entomologist, I am particularly interested in the small things that make the world go round – the wide variety of beneficial insects that inhabit farmland. My research aims to increase our understanding of how agricultural practices influence these insects and the ecosystem services (such as pollination and natural pest control) they deliver.
I primarily conduct research on working farms and this gives me a strong practical knowledge of farming systems and enables me to ensure that management recommendations resulting from my research are practical and realistic to achieve on the ground.
I enjoy sharing my knowledge with others and am a lecturer on SRUC's Conservation and Wildlife Management Degree course. In addition, I love to assist others build their research skills and currently supervise several PhD studentships.
I love being outside immersed in nature. I enjoy walking, cycling and paddleboarding and I'm never happier than when chasing insects in sunny weather.
Areas of expertise and interests
Agriculture, Crops and Soils
Climate, Environment and Wildlife
Natural Economy
Policy
I'm currently working on
the ecosystem services that beneficial insects provide
agroecology and its potential to provide multiple benefits
biodiversity value of regenerative agriculture
evaluating agri-environment schemes
plant pollinator interactions
the potential of riparian buffer strips to provide multiple benefits
My professional highlights
Fellow of the Royal Entomological Society
HEI Champion for CREW
Member of the Wild Bee Specialist Group
SWT Nectar Network Board Member
SETAC Sustaining Members Award
Find out more about our research services