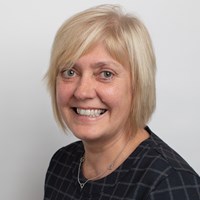 Hi I'm
Linda Hanna
Position: SRUC Board Chair
Location: Central Scotland
I am an experienced leader and non-executive working across both public and private sectors on major economic challenges and opportunities. I was Managing Director of Innovation and Investment at Scottish Enterprise helping to build economic systems supporting entrepreneurs, industries and communities in Scotland to grow, innovate and create jobs.
I was part of Scottish Enterprise for over 30 years, working nationally and internationally. I helped accelerate opportunities in high-value manufacturing, life sciences, food and drink, data-driven innovation and the low-carbon economy, working through partnerships right across Scotland's cities and regions. 
I co-chaired the Boeing Scotland Alliance and an advised on the UK R&D Place Advisory Group. I was a Founding Director of Fintech Scotland and Michelin Scotland Innovation Parc and Non-Executive Director of Investors in People Scotland and Scottish Business in the Community.
I graduated from the University of Glasgow with a degree in Parasitology and worked as a development manager in aquaculture and as a technical manager in the food processing industry, before being based in Ayrshire as part of Scottish Enterprise.
I worked closely with the Scottish Government, including as a member of Scotland's Financial Services Advisory Board, Manufacturing Leadership Group, Scotland's Technology Ecosystem Steering Group and Scotland's Health Innovation Partnership.
I live in Glasgow. With my abiding interest in science and innovation, and my passion to create opportunities to benefit people and build vibrant sustainable communities, I am very excited about the opportunity to Chair the Board at SRUC.
Find out more about our services