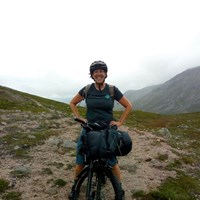 Hi I'm
Janet Litten
Position: Lecturer
Location: Craibstone Campus
Expertise:

Livestock and Fishing
Animal Care
Veterinary Medicine
On a day-to-day basis, I am involved in the delivery of BSc VN (Hons) programme, HND Animal Care, PDA Veterinary Science and Communications and VCA course. My subjects include ethics and professional standards, anaesthesia and analgesia, animal biology and communications. Of the courses listed above, I am the Year tutor for the VCA and the PDA Veterinary Science and Communications.
I also work as the Internal Moderator for several BSc VN as well as animal care units.
I have been a lecturer for the last 20 years, working in the rural sector. Previous to this, I worked as Head Nurse within a rural practice in the southwest of England.
I completed my degree in Bangor, North Wales, from where an initial carer as a countryside ranger evolved.
My hobby, besides, gardening, is mountain biking; I have particular passion for bike packing as well as enduro type trail riding. I am a qualified Level 2 guide, are part of the local trail association and a qualified Veletotech mechanic (Bronze).
Areas of expertise and interests
Livestock and Fishing
Animal Care
Veterinary Medicine
I'm currently working on
I am currently working on developing and gaining approval for the Vetskill's Level 2 Veterinary Practice Support programme, a cross campus project to provide a contemporary course to replace the VCA and ANA programmes.