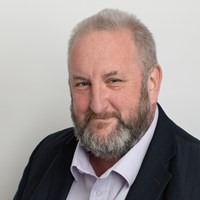 Hi I'm
Prof Jamie Newbold
Position: Provost and Deputy Principal
Expertise:

Climate, Environment and Wildlife
Livestock and Fishing
I graduated from the University of Newcastle-upon-Tyne with BSc (Hons) in Agricultural Biochemistry and Nutrition in 1981. I went onto do a PhD on Microbial metabolism of lactic acid in the rumen at the Hannah Research Institute in Scotland.
Prior to joining SRUC I was Professor of Animal Science and Director of Research and Enterprise at the Institute of Biological and Rural Sciences, Aberyswyth University, Wales.  Prior to joining the Aberystwyth University in 2003, I was based at the Rowett Research Institute in Aberdeen for 16 years.
My research interests have focused on the understanding and manipulation of gut ecosystems to improve animal productivity while reducing the environmental impact of animal husbandry, I have published over 230 papers, which are consistently well cited, with an H-index of 54. I have filed eight patents, four of which are currently licensed to commercial partners for further development and exploitation.
I am a past president of the British Society of Animal Science and past Editor in Chief of PNS for the Nutrition Society. I am a fellow of the Royal Society of Biology, a Fellow of the Learned Society of Wales and an Associate of the Royal Agricultural Society recognising both the international standing and impact of my research work. 
I am convinced of the advantages of linking teaching, research and knowledge transfer within the academic portfolio. I believe that research carried out at SRUC should be a major driver of economic progression within Scotland and beyond.
Areas of expertise and interests
Climate, Environment and Wildlife
Livestock and Fishing
Find out more about our services