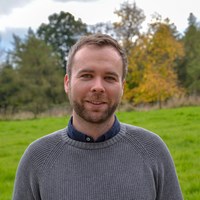 Hi I'm
Iain Boyd
Position: Senior Consultant
Location: South East Scotland
Expertise:

Climate, Environment and Wildlife
Energy
Natural Economy
Policy
Technology
I joined SAC consulting in 2015 after completing a MSc in Environmental Sustainability at the University of Edinburgh and BSc (Hons) Geography from the University of Glasgow. I'm based at Edinburgh Technopole.
I am a Practitioner of the Institute of Environmental Management and Assessment (PIEMA). My role involves assisting with the delivery of environmental consultancy, including on site data collection, natural resource analysis, environmental assessments, and report writing. I participate in multi‐disciplinary projects across the Environment Team including noise impact assessments, emissions modelling and permitting.
I have worked on numerous renewable energy projects, environmental impact assessments for large infrastructure projects, and planning applications for rural enterprises. My work and educational experiences have provided me with skills and a detailed knowledge of topics relevant to the environmental, energy and agricultural sectors. I am also in the Leaders Network of 2050 Climate Group and previously worked in their Policy Team.
Areas of expertise and interests
Climate, Environment and Wildlife
Energy
Natural Economy
Policy
Technology
I'm currently working on
A96 Dualling EIA
CARES funded renewable feasibility study
climate change adaptation guide
planning application for poultry farms
My professional highlights
Young Leadership Development Programme, 2050 Climate Group
Fundación Iberdrola Scholar for Masters studies in Energy and the Environment
Additional links
Find out more about our consulting services