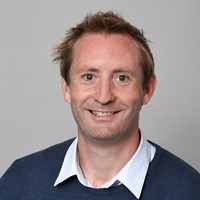 Hi I'm
Dr Hugh Morris
Position: Senior lecturer
Location: Barony Campus
Expertise:

Forestry and Estate Management
Climate, Environment and Wildlife
With a passion for plants since I was young, I studied amenity horticulture in Ireland. This was followed by a bachelor's degree in Arboriculture and Urban Forestry at Myerscough College in northwest England, where I specialised in woody plants. Encouraged by my love for systematics, I enrolled on an MSc programme entitled Biodiversity and Taxonomy of Plants at the University of Edinburgh/Royal Botanic Gardens, Edinburgh. After working in industry for 6 years, including three years teaching forestry and arboriculture at FE and HE levels in Plumpton College, I left for Germany to do my PhD investigating the multi-functional roles of living cells in trees. This was followed by postdoctoral studies at the Empa in Switzerland, successfully developing a lab based method to spalt wood for furniture. I then lectured botany at BOKU University in Vienna before joining the SRUC in February 2023.
My employment history includes: Hillier's tree nursery; RHS Wisley; RBG Kew; Evenleywood Gardens, Northamptonshire; Tree Officer for Test Valley Borough Council in Hampshire, lecturer at Plumpton College, and 10 years in Germany, Switzerland and Austria carrying out research into tree structure and function while teaching bachelor and master students.
I am now senior lecturer in forestry and arboriculture at the Barony campus, Dumfries, with the vision to develop curricula and research in these disciplines with our team, and the aim to make a positive contribution to the planet in these changing times.
In my spare time, I travel, climb mountains, trail run, and run the odd marathon, while still climbing trees when I get the chance.
I am a Fellow of the Linnean Society, Fellow of the Higher Education Academy and a member of the International Dendrology Society.
Areas of expertise and interests
Forestry and Estate Management
Climate, Environment and Wildlife
Find out more about our services