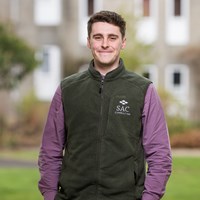 Hi I'm
Harry Fisher
Position: Consultant
Location: Ayr Campus
Expertise:

Expertise
Climate, Environment and Wildlife
Food and Drink
Forestry and Estate Management
Natural Economy
Policy
I am a Consultant Ecologist within the SAC Consulting environment team, based in the Auchincruive office in Ayr. I work closely with the environment team and agricultural consultants to provide insight and recommendations on a range of ecological issues. Being from a farming background and gaining an education in ecological and environmental sciences has given me useful skills and understanding on how to address problems such as biodiversity declines and global warming within the rural sector.
Since joining SAC Consulting, I have been able to use my knowledge of ecology and biodiversity to benefit a wide range of clients. This has included habitat surveys and recommendations in support of AECS and biodiversity audits, biodiversity enhancements for landowners to achieve net gain targets, regenerative agriculture recommendations for wildlife, and peatland habitat surveys to support funding opportunities.
Prior to joining SAC Consulting, I spent two years working as a consultant ecologist for Mott MacDonald in Birmingham and Glasgow. This role focused on ecological surveys in support of planning and development, specialising in protected species surveys and mitigation, botanical and habitat surveying to achieve Biodiversity Net Gain, and clint liaison regarding licencing and planning documents. Working across Scotland and England gave me a good grasp of environmental legislation and protected species across both countries.
Areas of expertise and interests
Expertise
Climate, Environment and Wildlife
Food and Drink
Forestry and Estate Management
Natural Economy
Policy
Find out more about our consulting services