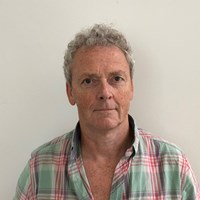 Hi I'm
Dr Geoff Foster
Position: Functional Manager Microbiology
Location: Highlands and Islands
Expertise:

Livestock and Fishing
Climate, Environment and Wildlife
I am an experienced microbiologist working in the veterinary field with a committed One Health outlook. I'm primarily based in Inverness. I have extensive experience of microbiology of farm, companion, zoo and wildlife animals as well as their interactions with humans and other animal species.
My broad background includes working/training in other fields including public health, food and plant microbiology. Since 2011, I have managed the Zoonoses and Antimicrobial Resistance activity of the Scottish Government's Veterinary and Advisory Service Programme.
I sit on several Scottish and UK committees on zoonoses and antimicrobial resistance and I am a sitting member of the International Sub-Committee for the Taxonomy of Brucella. I am also curator of an extensive culture bank of field isolates from animals collected over the last 30+ years.
One of my top priorities is extensive collaboration with microbiologists and vets from the UK, Europe and North America. I have published over 130 peer-reviewed publications in scientific journals and textbook contributions and I have given numerous presentations at national and international meetings.
Areas of expertise and interests
Livestock and Fishing
Climate, Environment and Wildlife
I'm currently working on
management of the Scottish Government Veterinary Advisory Services Programme on Zoonoses and Antimicrobial Resistance
ongoing surveillance of antibiotic resistance in healthy Scottish livestock presenting at abattoirs – ongoing since 2017
provision of annual antimicrobial resistance data to Scottish and UK annual veterinary antimicrobial surveillance reports
Klebsiella and Raoultella in animals
validation of novel bacteria from animals
My professional highlights
Member of the Scottish One Health Antimicrobial Use and Antimicrobial Resistance (SONAAR) Oversight and Advisory Group
Member of the Defra Antimicrobial Resistance Committee, the Scottish Gastro-intestinal and Zoonoses Group and the Scottish Public Health Microbiology Group
Meeting Secretary for the Scottish Microbiology Association
Editorial Advisor to Journal of Comparative Pathology
Find out more about our veterinary services