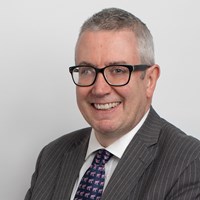 Hi I'm
Gavin Macgregor
Position: Chief Operating Officer and Deputy Chief Executive
I studied Management at the University of Glasgow on a Bursary award then post-graduate studies in Human Resource Management at Napier University (University Medal Winner), followed by Change Management at Heriot-Watt University (Distinction). Also studied Change Management at the Judge Business School in Cambridge University. I am a fellow of the Chartered Institute of Personnel & Development.
My work history includes Commercial Manager at Scotch Premier Meat Ltd's export plant in Edinburgh- responsible for P & L turnaround, Operations Manager for Alpha Airports Group Plc- based at Edinburgh Airport, then Head of Business Operations at the Forth Estuary Transport Authority.
More recent roles have focused on complex organisational change within the public sector, including lead for transformation and culture change projects at East Lothian Council, working with a new Chief Executive after publication of a highly critical Audit Scotland report and then as Head of People & Transformation at North Ayrshire Council, to lead the corporate transformation programme to drive a change of leadership and culture, as well as achieve over £50m savings as part of service delivery modernisation and change.
From the work I led on, North Ayrshire Council recently won UK Council of the Year as well as Transformation Award of the Year. East Lothian Council also were a finalist in the Most Improved Council in UK award. In relation to people and culture change, I have won a significant number of national awards, including as a first in Scotland, the national 'Best Workplace' award at both of my previous employers and other awards for employee engagement, culture change, lean process improvement and excellence in HR.
Find out more about our services