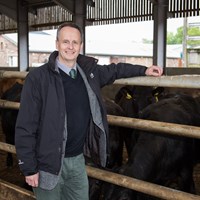 Hi I'm
Gavin Hill
Position: Head of Knowledge Networks
Location: South East Scotland
Expertise:

Livestock and Fishing
Policy
Natural Economy
Business Management and Finance
I am widely known as a Senior Beef Specialist based at the Bush Estate near Penicuik.
My background has always been in Beef production, working for over 20 years with SAC Consulting with emphasis in areas such as Management, Health, Genetics (EBV's) and Nutrition. I would summarise it as advising from "conception to consumption".
My work results in me talking to a wide range of those involved, such as livestock farmers, crofters, estates, processors, retailers, levy bodies, feed companies and the veterinary sectors. Recent projects have seen me undertake an increased focus on financial and economics of the beef industry. For 16 years I have run the contract for Quality Meat Scotland in providing enterprise costings for both beef and sheep. I now sit on a number of committees and groups, including Beef Strategy 2030 Steering Group, NFUS Livestock Committee, QMS Livestock Strategy Group and I was also heavily involved in the Suckler Beef Climate Group report.
I have a real passion to be on farm delivering technical advice on a one to one basis, or to groups, which I particularly enjoy. My livestock work is vital in times when the role of cows continues to be questioned in the part they play with climate change.
Aside from my Beef work within SAC Consulting I lead the Knowledge Exchange sector, which closely works along those in research. It involves having the knowledge and ability to understand what research and work is being carried out and how best to transfer it out to the wider audiences.
Areas of expertise and interests
Livestock and Fishing
Policy
Natural Economy
Business Management and Finance
I'm currently working on
improving the efficiency of livestock production towards a sustainable future
profitability of cattle, ranging from producers to finishers
transferring the livestock work at the SRUC Research Centres out to industry through the Knowledge Exchange Programme
getting on farm meetings and events back up and running after Covid-19
Find out more about our consulting services