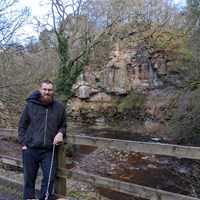 Hi I'm
Gareth Sliman
Position: Senior Laboratory Scientist
Location: South East Scotland
In 2011 I joined SRUC in the Analytical Services Department (ASD) on the bush estate. Due to my previous experience in environmental testing, such as ICP-MS and ICP-OES, I was able to use that knowledge to transition into the agricultural aspect of ASD.  Here I worked in a range of sections within the departments such as the Wet Chemistry and Biochemistry departments, which introduced veterinary testing.
In 2014 I was made Senior Scientist of the Instrumental Chemistry Department which is responsible for all of the elemental testing the lab performs on a variety of sample types including soils, veterinary tissues, plants and animal feeds.
I have spent much of my time in this role streamlining the testing and introducing blood tests, such as total Selenium and Manganese.
I am currently working on a new method of sample digestion which will hopefully significantly reduce the time needed to prepare samples for analysis whilst also producing a cleaner digestion.
Find out more about our veterinary services