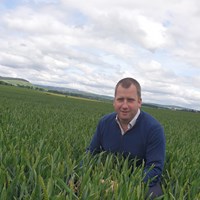 Hi I'm
David Ross
Position: Regional Development Manager
Location: North East Scotland
My professional highlights
I am a Regional Development Manager based in the Stonehaven office, with responsibility for delivery in my own area and six other offices. I am from a family farm and hold an Honours Degree in Agriculture as well as being BASIS, FACTS and FBAASS accredited.
My consultancy work covers the South Aberdeenshire area servicing approximately 100 mainly arable and mixed farming clients. My workload includes completion of IACS, submission of grant scheme applications as well as technical advice, with a specialisation in agronomy and business work.
Prior to joining SAC Consulting 15 years ago I worked as a Farm Business Advisor for a firm of accountants in Suffolk. I have experience in data collection and analysis both financial and technical from legacy monitor farms and business groups. I have also been involved in delivery of Carbon Audits through the Farm Advisory Service and am an experienced facilitator.
My main interests are in providing independent holistic agronomy advice which encompasses soil and plant health and nutrition to maximise margin for my clients. This is an area I am working hard to develop my knowledge and experience.
Find out more about our consulting services