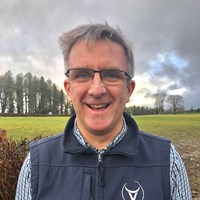 Hi I'm
Colin Mason
Position: Veterinary Centre Manager
Location: South West Scotland
Expertise:
I am currently a Veterinary Investigation Officer and Centre Manager based at SRUC's Disease Surveillance Centre in Dumfries. I have worked with farm animals since qualifying from the 'Dick Vet' in 1995 and have joined SRUC in 2005.
My current role is very diverse and brings me into contact with vets, farmers and the wider agricultural industry across SW Scotland to help investigate current animal health and disease issues. I am fortunate to be able to collate these findings as part of disease surveillance and then link with colleagues across Scotland to prioritise and investigate. 
My current areas of interest, which have arisen from what I see on farms, include dairy calf health, specifically Mycoplasma bovis and Salmonellosis. 
I am the Named Veterinary Surgeon for the SW Dairy Farms and Dairy Research Centre and am involved with the health management of the herds and flocks. I am particularly interested in all aspects of dairy calf health and dairy cow lameness. I am one of the Veterinary Consultants to the Premium Cattle Health Scheme and part of the Consultant Vet Group for two supermarket milk contracts. 
At home I live in a small village and upland farming community. I am a member of Straiton Agricultural Society, helping to organise the local agricultural show. We keep Highland Ponies and have bred a small flock of Derbyshire Gritstone sheep. I love to get out in the hills either on foot, bike or skis.
Areas of expertise and interests
My professional highlights
working with a superb team carrying out disease surveillance in SW Scotland
Junior Vice President of the British Cattle Veterinary Association
member of the UK-wide Ruminant Health and Welfare Group
member of Livestock Health Scotland's steering group
member of the DEFRA Animal Health Pathway Veterinary sub-group
Moredun Regional Advisor
Find out more about our veterinary services