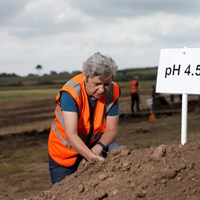 Hi I'm
Professor Christine Watson
Position: Associate Dean
Location: Craibstone Campus
Expertise:

Agriculture, Crops and Soils
Climate, Environment and Wildlife
Natural Economy
Policy
I am Professor of Agricultural Systems and Associate Dean of the Northern Faculty at SRUC based at the Craibstone Campus.  
I started my career with a degree in soil science and have spent much of my career working on nitrogen cycling in different kinds of land use systems – from grassland and arable systems to outdoor pig production and agroforestry. I am particularly interested in systems which utilise legumes like clover and beans to supply nitrogen. This is hugely relevant to future farming as we move towards net zero. I am really interested in the use of long-term experiments to understand how climate change and soil management affect food and nutritional security. I also enjoy the challenge of working across organic and conventional farming systems.  
I hold a guest professorship at the Swedish University of Agricultural Sciences where I am based in the Department of Crop Production Ecology. I have been going to Sweden regularly for the last 10 years and really enjoy being part of, and learning from, the different work and life cultures in Scandinavia.  
PhD supervision is a big part of my job as we build a PhD community at Craibstone. I have been lucky enough over the last few years to work with students on topics as diverse as legume production in Sub-Saharan Africa, nutrient and calorie production in diverse crop rotations and the role of pasture management in equine laminitis.  
Areas of expertise and interests
Agriculture, Crops and Soils
Climate, Environment and Wildlife
Natural Economy
Policy
I'm currently working on
Developing soil health metrics for use on farms

 

The impact of soil pH on crop production and soil health

 

Developing intercropping for food and feed

 

Integrating crops and livestock in European farming systems

 

Improving organic farming systems to deliver food, feed and ecosystem services

 

Legumes for food and feed

 
My professional highlights
Associate of the Royal Agricultural Societies

 

Chair of Defra Expert group on Organic Production

 

Trustee of the Organic Research Centre

 

Member of the Research Steering Group for the Game and Wildlife Conservation Trust (Scotland)

 

KSLA Wallenberg Professorship Sweden 2019

 

Member of the ZALF (Leibniz Centre for Agricultural Landscape Research) Scientific Advisory Board

 

President of the Association of Applied Biologists (2016-2018)

 

President of the European Society for Agronomy (2014-2016)

 
Find out more about our services