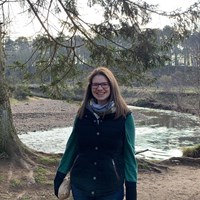 Hi I'm
Dr Carly Maynard
Position: Lecturer
Location: Edinburgh Campus
Expertise:

Climate, Environment and Wildlife
Energy
Policy
Starting my education on the physical process side of geography, and specialising in hydrology, I later moved to develop my expertise in the relationship between social and natural environments.  My doctoral research looked at the forms and roles of varied knowledge types in river management – combining hydraulic modelling and experiential knowledge for decision-making. 
My research focuses on the hydro-social system, community engagement with water environments, and novel ways of harnessing varied knowledges for water management.  More broadly, this work feeds in to an understanding of the importance of building relationships between people and their natural environment for multiple benefits such as community resilience to climate and environmental change, rural development, knowledge co-production, and perceptions, and for understanding framing and bias in science communication.
These research areas are connected by my primary interest in effective integration between social and environmental aspects of managing climate, water and energy systems, but have drawn lessons for wider environmental management.
My research methods are varied but include qualitative and quantitative elements, selected to best address each research problem. Recent approaches have focused on Q-method analysis, case study development and tool co-production.
I am a lecturer as well as researcher and draw on my own research and knowledge of the wider field to support research-led teaching.
Areas of expertise and interests
Climate, Environment and Wildlife
Energy
Policy
I'm currently working on
Understanding Scotland's vulnerabilities to water challenges, including too much and too little water

Developing tools to connect and empower communities who face challenges in managing their water resources

Understanding the relationships between water and wider rural development challenges

Designing approaches to facilitate rural communities in conserving natural resources such as peatlands
My professional highlights
Review Editor for Frontiers Water and Human Systems

Stakeholder expert participant for Scotland's Flood Resilience Strategy

Participant advisor for Scottish Science Advisory Council on Place-based Adaptation
Additional links
Find out more about our services