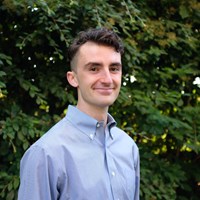 Hi I'm
Brady Stevens
Position: Consultant
Location: South East Scotland
Expertise:

Climate, Environment and Wildlife
Food and Drink
Natural Economy
Policy
I work on long-term, landscape-level planning, aiming to answer questions such as 'What do our landscapes need to look like for us to feed 10 billion people, have opportunities to connect with nature and give the coming generations the chance to enjoy the things that should come with being citizens of the Earth?' and 'How do we balance food security, carbon sequestration, natural processes, habitats and places for people to work, live and play?'
I became interested in these questions growing up and studying Life Sciences in rural New York State. I was looking for an opportunity to dive deeper into the practicalities of addressing big global issues like climate, nature and food, which led me to pursue an MSc in Environmental Protection and Management at SRUC. The rural sector is where we can take impactful action to stem global problems, and I feel lucky to be able to work at this every day.
Land use is a hot topic that academics and policymakers are grappling with, and Scotland is way ahead of the curve. To find solutions that work for everyone, we must work together, so a lot of my work involves figuring out how to engage people and encourage open discussion and exchange. A mechanism that I think shows a lot of promise is Scotland's Regional Land Use Partnerships policy. We hope that these groupings will do just that, capture a broad cross-section of stakeholder priorities and co-create a local, specific, regional land use plan that reflects these priorities.
Outside of work, I enjoy getting out in these landscapes that I help to protect and shape, on my bicycle, in a rowing shell or in my walking boots. Adding detail and colour to my mental map of Scotland is a blast and will enrich my contributions at SAC Consulting.
Areas of expertise and interests
Climate, Environment and Wildlife
Food and Drink
Natural Economy
Policy
I'm currently working on
a net zero plan for the Scottish red meat industry (Quality Meat Scotland): How will their practices need to change? What will they need to invest in to end their contribution to climate change? How can supply chain actors contribute to lowering emissions?
a University Innovation Fund (UIF) knowledge exchange project to help upskill agricultural sector stakeholders about carbon and other ecosystem service markets. We are seeking to build a knowledge network, or 'community of practice', around the opportunities and implications of carbon management for the agriculture and rural sector going forward, bringing together stakeholders across industry, research, advisory services, education, policy and the non-governmental sector.
a scoping project with the Cairngorms National Park to understand opportunities for local estates to increase their ecosystem service delivery for climate, nature, communities and the estate enterprises themselves: What are the full range of options available to these unique land managers? Which will have greatest impact within their contexts?
My professional highlights
Leading an international team of young professionals in developing and presenting the Rural Roots Network, a virtual platform to connect sustainability-minded consumers with rural entrepreneurs looking to diversify their business and minimise economic vulnerability. The pitch won first place at the North Atlantic Youth Hackathon and the team participated in the 'Meet the Tourism Industry' conference at Faroe Islands.
Additional links
Find out more about our consulting services