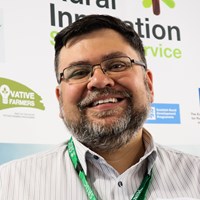 Hi I'm
Alistair Trail
Position: Principal Practitioner
Location: North East Scotland
Expertise:

Natural Economy
Technology
Food and Drink
Climate, Environment and Wildlife
I joined SAC Consulting in 2017, based at Craibstone, Aberdeen as a Principal Food and Enterprise Consultant. I have over 17 years' experience working on several consultancy projects in the food and drink sector and as an Environmental Consultant specialising in the Circular Economy.
I currently deliver a variety of projects and supply one-to-one business advice to the food and drink sector in areas including local supply chains, sustainability, new product development, innovation and funding.
Prior to joining SAC Consulting, I was Business Engagement Manager for Interface Food & Drink, where I worked with food and drink companies and trade associations to identify and implement collaborative and innovative research projects with university researchers.
I lead on the New Product Development work where I collaborate with SRUC Development Chefs to produce new innovative or healthy products for Scottish food manufacturers. I am Project Manager of the Food and Drink TechHUB Business Support Service for Highland and Islands Enterprise (HIE) where the Food and Enterprise Team deliver business support, technical advice and events to develop an existing and growing network of Food and Drink (F&D) producers and supply chain businesses in the Highlands. I was previously Co-project manager of the Rural Innovation Support Service where I facilitated farmer-led innovative projects. I also helped deliver Connect Local, where I offered one-to-one advice in areas including NPD, funding and sustainability.
I also lead on the Circular Economy and Food Waste projects and am Project Manager for SAC Consulting involvement in the Zero Waste Scotland Framework for delivering the Circular Economy Business Support Service. I am a Practitioner Member of the Institute of Environment Management and Assessment (IEMA) and a Circular Economy Ambassador for Circular North East.
Outside of work, I am a keen supporter of Aberdeen Football club, a member of a local darts team and can be seen spoiling a good walk by hacking a golf ball around one of the many Aberdeenshire golf courses.
Areas of expertise and interests
Natural Economy
Technology
Food and Drink
Climate, Environment and Wildlife
I'm currently working on
Project Manager of the Food and Drink TechHUB Business Support Service for Highland and Islands Enterprise (HIE), delivering business support, technical advice and events to food and drink businesses in the Highlands
Insights in New Product Development (INPD) project for Opportunity North East (ONE), offering signposting advice to businesses undertaking New Product Development projects
ongoing collaboration with SRUC Hospitality Chefs, Scottish producers and entrepreneurs on New Product Development projects. This includes Free from products, low calorie and healthy products, adult soft drinks and innovative, new products
Project Manager for SAC Consulting involvement in the Zero Waste Scotland
Framework for delivering the Circular Economy Business Support Service
annual delivery of the Scotland Food & Drink Excellence Awards product
judging
My professional highlights
nominated and shortlisted for the 'Knowledge Exchange' category at the
CEED Awards 2019 for SRUC's New Product Development work
winner of the 'Multi-Party Collaboration Award' at the Scottish Knowledge
Exchange Awards 2014 for the Resource Efficiency Industry Advisory Group
for Food and Drink
awarded NISP 'Practitioner of the Year' 2011 for delivery of the National
Industrial Symbiosis project which identified synergies for the reuse of
industrial waste and unwanted by-products
Project Manager of the first Industrial Symbiosis project in China. This
involved collaborating with the TEDA Eco Centre in Tianjin, to deliver the
€1.8 million project 'Implementing Industrial Symbiosis and Environment
Management Systems in TBNA'
Additional links
Find out more about our consulting services