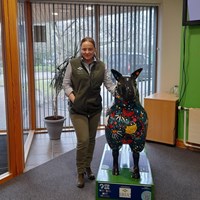 Hi I'm
Dr. Alina Donisa
Position: Veterinary Lecturer
Location: Craibstone Campus
Expertise:

Food and Drink
Animal Care
Technology
Experienced vet & accomplished operations specialist with a passion for animal welfare and food safety with extensive experience in management within the commercial and technical sectors.
I obtained my DVM from the Cluj Napca School of Veterinary Medicine, Romania in 2006. After graduating, I decided to work towards a Phd in veterinary science completing my studies in 2010.
Wanting to further my professional development I relocated to the UK shortly after to work for Hall Mark Meat Hygiene Ltd as a meat hygiene inspector and while there, completed the Official Veterinarian course at Glasgow University.
Embracing all the changes and opportunities coming my way, in 2013 I started my career in management and food operations with two UK industry leading commercial food companies. The experience I gained there facilitated my progression to a senior managerial role at the SRUC's Aviagen Poultry Evaluation Unit research facility in May 2020.
Following my ambitions and enthusiasm for veterinary academia, I jumped at the opportunity to join the SRUC Vet School as a Veterinary Lecturer in March 2023 where I hope to educate my students on the importance of veterinary public health and instil in them an ethos of maintaining high standards of animal welfare. Outside work, I enjoy walking, going to the gym, cooking.
Areas of expertise and interests
Food and Drink
Animal Care
Technology