Winter Care for Horses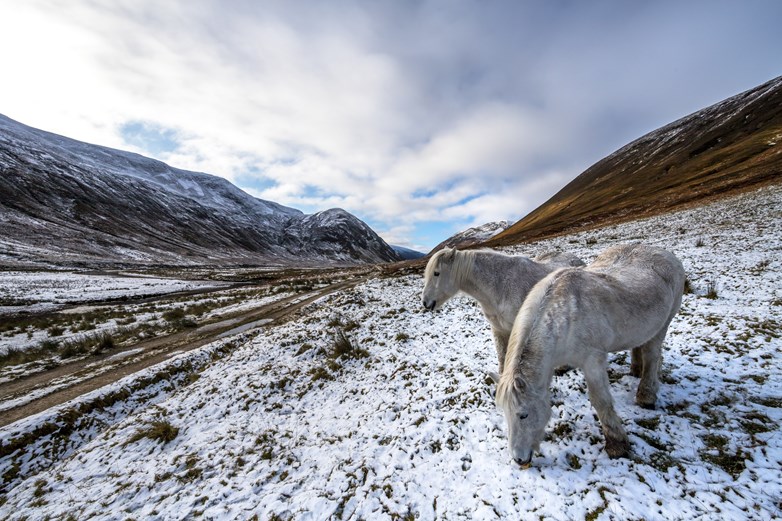 Horses in the Alladale Wilderness Reserve
With recent cold weather moving in we hope these top tips below will be helpful in caring for your horses, ponies and donkeys over the winter. 
Nutrition
Forage/Fibre is king, so feed plenty of it for energy and warmth.
Keep supplementing with vitamins, minerals and/or balancer.
Consider yeast supplementation to enhance fibre digestion and support gut health.
Meet additional calories by increasing fibre/forage in the ration where possible; don't be tempted to reach for starch-rich concentrates unless your horse is in intense work.
Make any changes to diet gradually over a period of 10-14 days.
Body Condition
Monitor weight every 2 weeks and body condition every month (there's a host of great mobile apps out there to help you).
It's normal (and even beneficial) for horses to lose a little over the winter - they will soon regain in the spring and summer.
Don't forgot, overweight horses and ponies are still prone to laminitis over winter.
Water
Closely monitor water intakes and check for ice build-up in water buckets twice daily.
Horses do not like to drink very cold water; add some hot water daily to water buckets to raise the temperature of the water enough to encourage them to drink.
Adding a little salt or apples to water can encourage drinking.
Soak forage to increase water intake; if feeding hard feeds make them sloppy with water.
Add a ball or bottle filled with saturated salt water to the trough to minimise freezing (bobbing effect).
Shelter
Horses outside still need shelter, consider a field shelter or move to fields with more natural shelter (tree groups, large hedges etc).
Have a plan in place for extreme weather conditions.
Rugging
Horses don't feel the cold when we would naturally feel it, so don't be too quick to rug.
Use well-fitting rugs and ensure plenty of fill for those horses that are clipped.
Paddocks and Tracks
Check legs and feet regularly if there is a lot of mud in fields. Try and use paddocks that have better drainage and are less prone to mud and poaching.
Beware of roads, tracks and arenas that are icy - if they are icy don't ride.
Keep checking and maintaining fencing and boundaries throughout winter.
Exercise
Lack of exercise and increased stabling are risk factors for colic.
Maintain turnout/regular exercise daily wherever possible.
Horses are often fine turned out in snow if they are sensible; just ensure it's not too deep and they have a good supply of forage and water available.
Explore our equine and horse care courses at SRUC.
Posted by Peter Hastie on 10/11/2023