SRUC research hits Netflix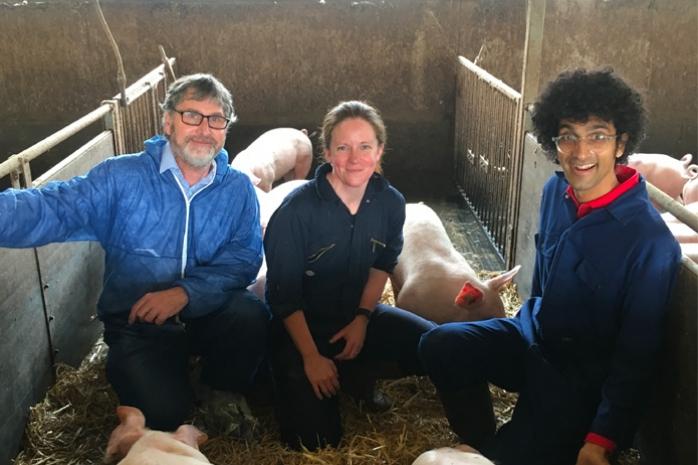 "Melvyn Smith, Emma Baxter and Latif Nasser take a break from filming for the Netflix series Connected"


An animal behaviourist at SRUC features in a new Netflix series showcasing research using facial recognition technology to detect different emotional states in pigs.
Drs Emma Baxter and Kenny Rutherford teamed up with machine vision experts at the University of the West of England (UWE Bristol) for the study which is hoping to develop a tool to monitor individual animals' faces and alert farmers to any health and welfare problems.
The research, which has attracted worldwide attention, is now featured in the new Netflix series CONNECTED – The Hidden Science of Everything, which began streaming globally on Netflix at the weekend.
Presented by science journalist Latif Nasser, the series investigates the surprising and intricate ways in which we are connected to each other, the world and the universe.
The first episode, Surveillance, looks at how surveillance technology is being used in positive ways, especially with animals.
It includes a 15-minute segment, filmed at SRUC's Pig Research Centre in Midlothian, with Emma and Professor Melvyn Smith from UWE Bristol's Centre for Machine Vision, part of the Bristol Robotics Laboratory.
As part of the research, which is being funded by the Biotechnology and Biological Sciences Research Council (BBSRC), SRUC researchers are capturing 3D and 2D facial images of the breeding sow population under various, typical commercial situations that are likely to result in different emotional states.
The images are then processed at UWE Bristol, where state-of-the-art machine learning techniques are being developed to automatically identify different emotions conveyed by particular facial expressions.
After validating these techniques, the team will develop the technology for on-farm use with commercial partners, where individual sows in large herds will be monitored continuously.
Emma said: "The Netflix shoot involved two challenging days of filming but hopefully it was worthwhile if it engages different audiences with our work.
"Our pigs were far more relaxed than me about the filming – thanks to the Animal Behaviour and Welfare team technicians who helped prepare them for the shoot and entertained them during multiple filming takes."
The whole series, which includes six episodes, is available on Netflix. The trailer can be viewed on YouTube.
Posted by SRUC on 05/08/2020