SRUC celebrates "skills and resilience" of graduating students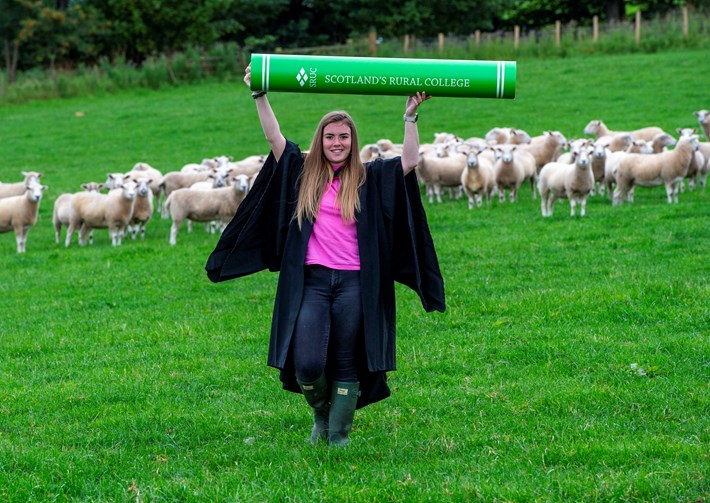 Award-winning Applied Animal Science student Leigh Bell celebrating ahead of graduation
More than 600 students are graduating from SRUC in a range of subjects from Agriculture to Wildlife and Conservation Management. 
A morning ceremony at the University of Glasgow's Bute Hall today will celebrate the achievements of HNC and HND students from the North, Central and South & West faculties, followed by an afternoon ceremony for degree and postgraduate degree students.  
Among the graduands is BSc (Hons) Applied Animal Science student Leigh Bell who has been awarded the SRUC Trust Prize for best honours dissertation and The Texel Sheep Society Educational Award for the best honours dissertation on a sheep-related topic. 
The 22-year-old grew up surrounded by animals on the family farm at Kirkton, Hawick, which offered her plenty of work experience as a youngster.  
After completing an HNC Animal Care course at the Barony campus, she went on to study Applied Animal Science in Edinburgh and is now starting a job as a trainee laboratory technician at SRUC's Biomarkers lab on the campus. 
She said: "The Applied Animal Science course allowed me to gain knowledge and experience in a variety of topics, from nutrition to epidemiology and conservation to breeding and genetics.  
"Alongside these, current global issues surrounding climate change are also discussed, which I feel is of huge importance. 
"In addition, the variety of learning methods - practical, in person lectures, trips and online lectures – helped maintain interest throughout the course." 
Graduating with an MSc in Organic Farming, David McKay hopes to put his thesis on Organic Action Plans in the UK and Europe to good use in his job as Head of Policy at the Soil Association.  
The 46-year-old, from King Edward, Aberdeenshire, who studied via distance learning, has been awarded the SRUC Trust Prize for the best Master of Science Student in Organic Farming.  
He said: "I consider myself extremely lucky to have been taught by people who wrote some of the core textbooks on this subject and have been involved in academic research that is regularly cited by others." 
Ahead of the ceremonies, Principal and Chief Executive Professor Wayne Powell said: "We are extremely proud of all our graduands.  
"Although we have emerged from the restrictions and uncertainties of the pandemic, new challenges are emerging. The talent, skills, resilience and initiative our students have demonstrated and developed during their studies will ensure they are well equipped to face these issues."  
For more information about studying at SRUC, visit: www.sruc.ac.uk/courses 
Posted by SRUC on 28/08/2023