Sheep and goat project on tour to France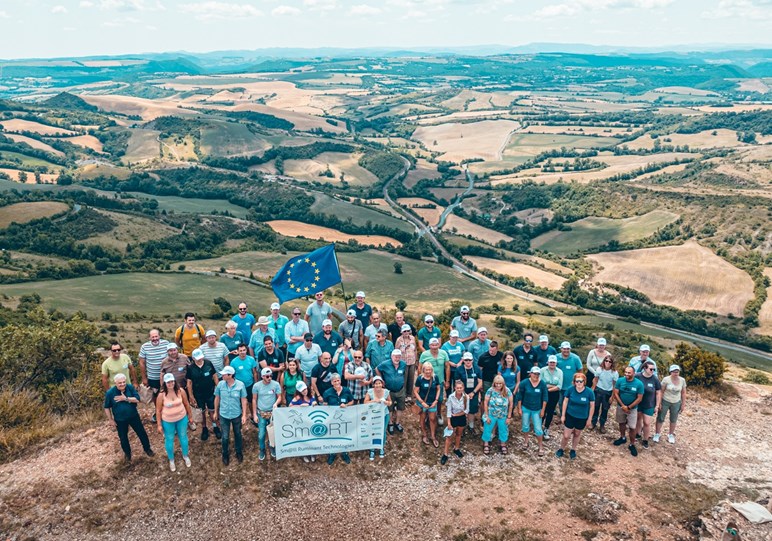 Around 70 participants took part in the latest Sm@rt project workshop.
An SRUC-led multinational project to improve the uptake of digital technologies in sheep and goat farming has held its first in-person transnational workshop in France.
Around 70 researchers, farmers, lecturers and advisors from seven countries attended the event in Saint Affrique in July, which was held as part of the Sm@RT (Small Ruminant Technologies) project run in partnership with the Moredun Research Institute and funded by the EU Horizon 2020 research programme.
Two previous workshops had been held online due to the coronavirus pandemic.
The delegates from UK, France, Ireland, Norway, Estonia, Italy and Israel, visited two sheep farms - La Cazotte in Roquefort, which is linked to an agricultural school, and mixed dairy and meat sheep experimental farm La Fage in Aveyron – where they had the opportunity to see and learn about the use of 14 small ruminant innovative technologies.
These included virtual and connected fences, automatic feeders in the milking parlour, individual feed bins, and shed sensors for temperature, humidity and CO2, among others.
On the second day, following a presentation about the French sheep sector, delegates shared examples of the innovative technologies being used in their countries, including automatic weighing and water consumption in one trough, DNA sampling for lamb parentage and a hay drying machine.
Claire Morgan-Davies, Sm@RT coordinator from SRUC, said: "It was great to be able to see each other for the first time. The group dynamic was fantastic and the organisation by the French partners flawless. It was nice to see delegates exchanging ideas and seeing for themselves the wide range of innovative technologies available to the sheep and goat sectors."
The next workshop is scheduled for Spring 2023 in Norway and will focus on feedback related to a selection of innovative technologies for the small ruminant sector.
For more information about the project, visit: www.smartplatform.network
Posted by SRUC on 02/08/2022