Sharing a Canadian perspective on the 2023 Rural Housing Conference in Birnam, Perthshire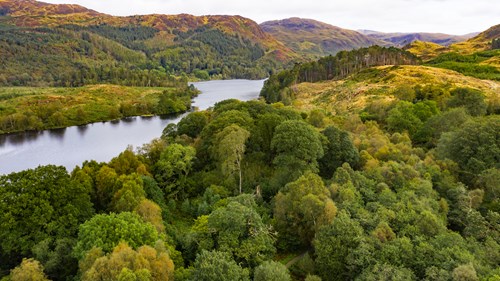 Blake Glassford attended the 2023 Rural Housing Conference in February
A couple of weeks ago, I departed on a train from Edinburgh to the village of Birnam for the 2023 Rural Housing Conference hosted by Rural Housing Scotland (RHS). Beatrix Potter, author of several classic children's novel's such as The Tale of Peter Rabbit, spent many childhood summers in Dunkeld and Birnam, making the village no stranger to inspiring new ideas. This year's conference was no exception. There, organisations across Scotland explored ideas from within, abroad and their past to find solutions to a sustainable future. Emotions ranged from cautious optimism to plain frustration, but the determination to bring innovation to rural housing solutions was a universal constant.  
At first glance, the differences between Scotland and Canada are obvious. Canada is the second largest country in the world by landmass, with a population six times the size of Scotland. On the other hand, Scotland has existed in some form as a political entity for over a millennium, forming deeper connections with the European world.  However, the issues faced by rural communities in both countries show a common struggle in the post-Covid era. Both Scotland and Canada face depopulation of rural areas. Even as remote work becomes more readily available, affordable housing options are hard to come by. Remarks, especially pertaining to areas in the Highlands and Islands, parallel the findings from my work with Selkirk Innovates, Selkirk College's applied research institute. 
As outlined in the 2021 report "Perspectives on Rural Market Housing Solutions," rural British Columbians face similar challenges to fill what is dubbed 'the missing middle,'. These are housing models that occupy the middle of the housing affordability spectrum, including multiplex housing, cluster housing, and cooperative housing structures.  As economies shift from resource extraction to service-based economies, highland and mountainous or upland communities in both countries are tasked with providing affordable and energy efficient home for new generations of rural dwellers. This process requires innovation and community-oriented solutions. 
That innovative drive manifested itself in many forms at Birnam. For example, Smart Clachan, a RHS initiative in partnership with Stòras Uibhist and Comrie Croft, takes inspiration from traditional Clachan settlements in Scotland and Ireland to address current housing gaps for rural and remote communities. This revival concept incorporates cooperative housing models to deliver affordable housing that supports alternative, sustainable lifestyles. This is accomplished by facilitating a slate of community-based services, including community work hubs, cooperative growing spaces, and other shared services. The concept presents a holistic solution to the revitalisation of rural communities by combining new and traditional concepts to provide affordable housing. For Canada, projects like Smart Clachan show the importance of looking to the past and future to find solutions to today's challenges. 
As I write this piece from Guelph, Ontario, all I can think about is the limitless possibilities to establish partnerships and share knowledge between rural communities in both Scotland and Canada. Innovation is never created in a vacuum. Holistic solutions are required to address the wicked problems associated with rural housing, requiring collaboration between rural spaces where similar issues exist. There is a desire, I believe, on both sides of the Atlantic to mutually find solutions, share accomplishments, and grow in solidarity around rural issues. Rurality is defined by community, and in the post-COVID era, community is no longer defined just by those in your immediate vicinity. By embracing and discovering new partnerships, rural spaces can only become more sustainable and resilient for years to come.   
 
Blake Glassford, an MSc Rural Planning and Development student from University of Guelph, attended the 2023 Rural Housing Conference with support from SRUC's Rural Policy Centre
Posted by Blake Glassford on 28/03/2023