Nordic golf – with a snow handicap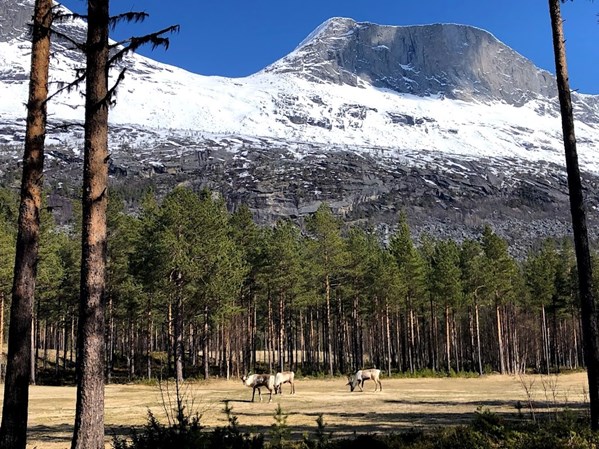 Reindeer and elk are frequent visitors to the Norwegian golf club where Golf Course Management student Nathan works.
Norway isn't usually associated with golf, but that is where Golf Course Management student Nathan Carmichael has been based for the past 13 years.
Nathan, 40, who is studying for an HND at SRUC, started working as a greenkeeper in England before moving to Norway following three seasons in Austria.
After working in the south of the country for a few years, he is now based at a club called Narvik Golfklubb, in Skjomen in the Arctic Circle, where reindeer and elk are frequent visitors - and a bear has been spotted in the mountains above the course.
"It's a dream job really," he says. "It's a small club with a small members base, which means low resources and, as such, the quality isn't to the same standard of bigger clubs - but that isn't to say that it doesn't look good.
"We work very hard and the course, slowly but surely, is really coming along. The biggest thing here, I'd say, is the playing experience. It's a course flanked on two sides by high mountains, and it is miles away from the nearest city, so offers a spectacular and peaceful round of golf.
"Everything is a challenge - from sourcing top-dressing sand and bunker sand, which aren't found locally, and being so far away from just about all suppliers, right through to just adapting to a climate that has 24-hour sunlight in the summer months and no sunlight from early December to mid-February.
"It encourages creative thinking to get the most out of what we have and it's sustainable, with little to no use of chemicals as we want to promote and protect the surrounding nature and wildlife.
"The atmosphere within the club is fantastic too and we have worked hard to have good relations with the community around us. For example, the club allows the use of one of the mowers to cut the football pitch for the local school and we also prepare a ski track around the course in the winter, for the locals to ski on. It represents, I like to think, the position a golf club should hold within the local community." 
Nathan, who lives with his partner Jana had their daughter Dorothea, decided to do an HNC in 2015 after hearing about the distance learning option offered at SRUC's Elmwood campus in Fife.
"I was at the stage of my life and career where it just felt like a great opportunity to further my qualifications which had perhaps become a bit lacking," he said. "It was a bit off-and-on with the HNC which took five winters (start to finish) in the end. I hit a bit of a wall as they say in Norwegian - depression, basically.  
"This wasn't so much study-induced, but more a perfect storm of work and family and all of the things that we typically have to deal with but that can sometimes get the better of us.
"I overcame this by taking a step back, re-evaluating what is important in life and pursued an interest in meditation which has led to me taking part in some Vipassana meditation courses and retreats, culminating in an online mindfulness teacher training course.
"I feel this has been beneficial personally and professionally. It offers extra tools to use in the work environment. Striking the right balance between work (or study) and life is very important."
Having completed his HNC earlier this year, with the help of a scholarship from The R&A in 2019, he decided to continue his studies to HND level this year.
"The things taught on the course have given me new eyes with which to see the job and have improved so many aspects of my overall performance which has fundamentally changed the relationship I have with my colleagues and employers.
"All in all, I think further education and knowledge gives one a greater sense of self-confidence in the workplace.
"My plan is to persevere, hopefully keep on improving the methods and knowledge needed to carry out the job, to keep up with the times and to continue enjoying the career that I'm probably about half-way through."
Posted by SRUC on 04/11/2021