New research to tackle cattle methane emissions in Africa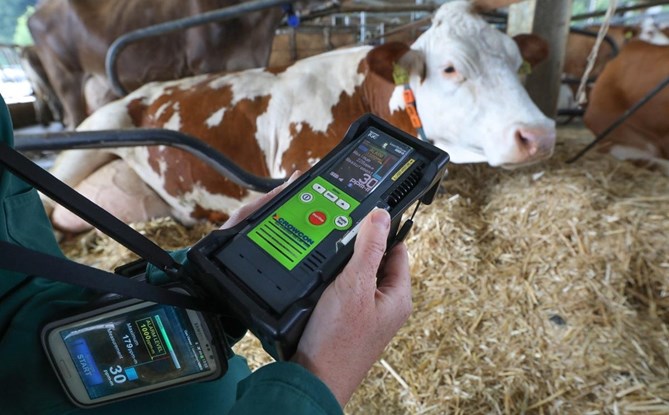 Modern technology will be used to measure greenhouse gas emissions from African smallholdings
Breeding more environmentally friendly dairy cows in African smallholdings could play an important role in the fight against climate change.
Current research shows that Africa is responsible for around 4 per cent of global greenhouse gas emissions. However, with the continent's population set to double by 2050, it is important to have mechanisms in place to mitigate these emissions and address a "critical research gap".
Scotland's Rural College (SRUC) and ILRI (International Livestock Research Institute) have been awarded £1.5 million by the Bill & Melinda Gates Foundation to help develop a selection index for the smallholder dairy system.
It is hoped this will eventually result in the smallholder dairy 'enviro-cow' – an animal which has less impact on the environment, is better at utilising feed, and is altogether more productive and efficient.
The project, which was officially launched in Ethiopia last week, aims to better quantify part of the greenhouse gas emissions of African smallholdings.
Researchers are set to use sophisticated methane-measuring equipment on dairy cows on a number of farms in sub-Saharan Africa, where 80 per cent of land holdings are under ten hectares.
Professor Raphael Mrode, the project lead who works for both SRUC and ILRI, said: "With increasing concern over climate change, research into the sustainability of the smallholder dairy system has become paramount.  Such research must not only address mitigation strategies and the adaptive capacity of animals, but also ensure increased productivity and food security. 
"This project uses genomic selection and modern technology to selection for reduction in methane emitted by dairy animals and harnesses differences in the genetic potential for resilience to climate change among animals of various breed types. The project gives us the opportunity to eventually select a dairy cow with less impact on the environment, better feed utilisation, and is more productive and efficient."
Posted by SRUC on 13/02/2023