New appointment to tackle dairy skills crisis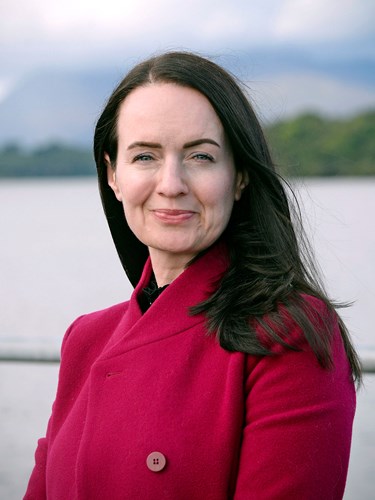 Lynne Somerville has been tasked with re-evaluating how the dairy industry can attract and retain workers
A new role has been created by the Digital Dairy Chain project to re-evaluate how the dairy industry can attract and retain its workforce.
The government-funded project, led by Scotland's Rural College (SRUC), seeks to address the skills shortage via its 'Workforce for the Future' programme.
Lynne Somerville, who is employed by Digital Dairy Chain partner the University of the West of Scotland, will run the programme in her new role as Skills Lead.
Lynne's aims for the five-year role include establishing a dairy skills forum and conducting a full sector review to provide a comprehensive understanding of the current landscape and what training provisions and education policies are needed to support the dairy industry over the next 25 years.
Speaking about what led her into a career in skills and education, Lynne said: "After spending years working both in the private sector and launching my own start-up ventures, I'd had a taste of working within the education sector both here in the UK and in the Middle East.
"Five years ago, I joined the education sector full time working with a private Skills Development Scotland training provider and then Heriot Watt University working cross sector to bridge skills gaps and aid organisation in succession planning.
"Joining the Digital Dairy Chain team allows me to hone my knowledge in one very specific and unique industry. It is vital we encourage and support more young people into a career in the dairy sector, not just for economic reasons and to ensure our dairy farmers can stay in business but so that the UK's dairy sector can compete in international markets.
"There are various career paths and roles available in dairy so it's fantastic to be part of a project which is not only showcasing this but helping to break down barriers to new talent entering."
Stuart Martin, Programme Director of the Digital Dairy Chain, said: "Lynne's drive and experience made her the ideal candidate for this role. We're delighted to have her leading what is fundamentally one of the most important programmes the Digital Dairy Chain is running.
"I have no doubt the Workforce for the Future programme will be a key part of the project's legacy and will have a significant impact upon on the dairy sector."
If you're interested in finding out more about the Workforce for the Future programme or how you can get involved, please contact lynne.somerville@uws.ac.uk.
Posted by SRUC on 17/10/2023