Lost in translation? Insights from an international approach to rural issues at ESRS 2023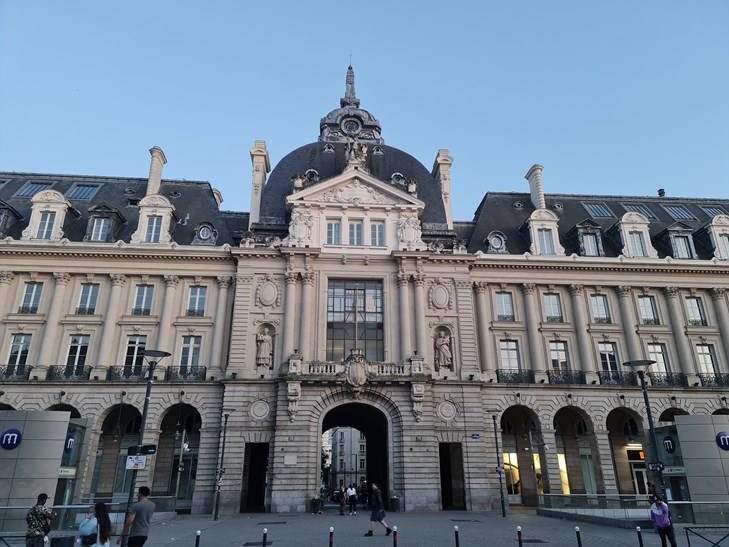 The European Society for Rural Sociology held their biennial congress in Rennes, France this year. 
Dr Ana Vuin, a Research Fellow with the Rural Policy Centre, shares her experience of attending The European Society for Rural Sociology's biennial congress in July 2023.
The European Society for Rural Sociology (ESRS) is the leading European Association for researchers, policy makers and scientists interested in the study of rural issues. So when I was given the opportunity to attend this year's congress (the event is held every two years) as a working group convenor, I gladly accepted. The theme of the conference was 'Crises and the Futures of Rural Areas' and it was held in Rennes, in the east of Brittany, northwestern France. Due to the size of the congress, the programme was split into 32 working groups, taking place over the course of five days. It also featured 12 themed field trips including visits to an eco-village and a walking tour of the city to its oldest farm shop.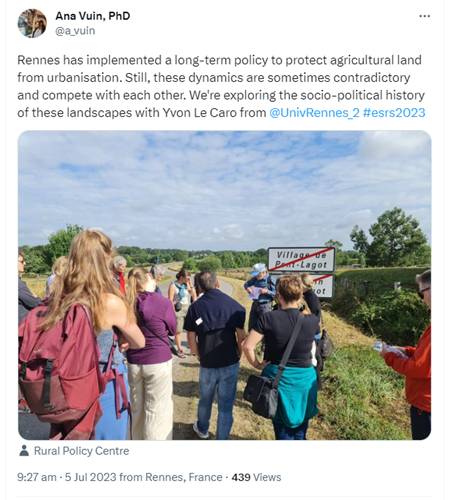 The working group I co-convened was focused on 'Shifting mobilities in times of crisis: Exploring new rural and island migration flows in a disorderly world', and links closely to the ongoing project funded by the Royal Society of Edinburgh (RSE), which Jane Atterton is leading on for SRUC. We split the working group into four sub-topics:
The drivers and motivations for migration
The impacts of migration
Urban-rural relationships and sustainability
International migration and crisis.
Over the course of five days, I learned about the 'kankejinko' - a type of migrant who migrates to rural areas in Japan and builds a gradual connection with the place. The discussions around this had me pondering whether we should encourage the kankejinko form of migration in rural Scotland? Or if it would even be feasible to try it? There is more information about kankejinko in the work that Jane Atterton led with colleagues at Newcastle University and Akita International University in Japan for the Scottish Government.
This presentation also prompted a very interesting discussion on the relevance of terminology we use in our work and how well it translates to other languages. Can we truly encapsulate the meaning of kankejinko, for example, with all its contextual nuances? Or do we need to settle for an acceptable but not truly representative explanation created by an English language translation. This issue was brought up throughout our working group sessions, as terms such as diaspora, migrant and rural were mentioned. The potential negative connotations related to each – depending on the contextual differences that come along with such terminology – prove to be substantial and, once again, reminded us about the existing diversity of audiences and socio-political landscapes.
Other presentations gave us an insight into international experiences and mobility patterns amid recent changes. These included the shifting mobility streams driven by climate change, support systems for the island-based victims of domestic violence during Covid-19, return migration to islands, the impacts of remote work on mobility patterns, public perceptions and the capacity of Polish rural settlements to receive and retain Ukrainian refugees.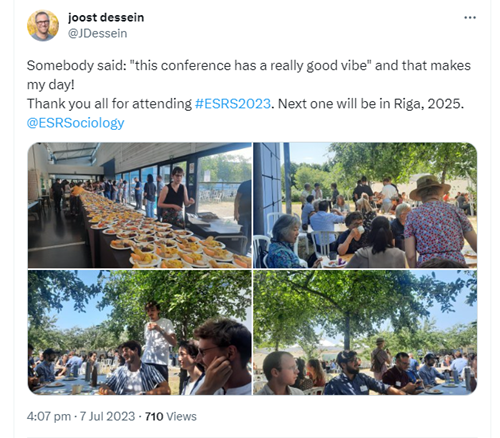 The goal of our working group was to learn about novel research in the field, and to further expand our network for the RSE project. The RSE project is aiming to form an international network, bringing together researchers exploring new migration flows from urban to rural and island locations that have emerged in diverse international contexts in recent years - linked to the Covid-19 pandemic
ESRS 2023 provided a great opportunity to meet with the international team members (from Sweden, Japan, and Turkey) to discuss the next steps for the project and further promote the working group. Indeed, the entire conference served as a great place for discussion, learning and exchange of ideas, knowledge, and experiences among peers in the field. I look forward to returning to the next ESRS congress, due to be held in Riga in 2025.
This research trip was supported by the Scottish Government Rural and Environment Science and Analytical Services Division Strategic Research Programme 2022-2027 (Project SRUC-E2-2 'Reimagined Policy Futures: Shaping sustainable, inclusive and just rural and island communities in Scotland).
Posted by Ana Vuin on 27/07/2023